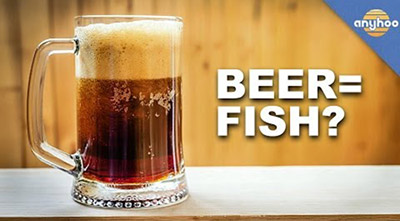 Many moons ago, when I was a young hockey goalie at university, there was a tradition of what was known as The Dirty Pint. In the Crown and Anchor pub in Worcester was where thirty or so young men held court in the skittle alley and got royally trashed playing drinking games before stumbling back to campus in time for the Wednesday evening disco at the Student's Union.
This short walk up a hill was difficult enough if you were regular Wednesday night drunk, but if you'd had a dirty pint, it was safe to say your evening was probably over at this point.
The Crown and Anchor was your regular freehold pub with your regular selection of alcoholic drinks and an exemplary array of weirdly British bar snacks. The landlord was a true gent who turned a blind eye to us trying to kill each other with master-crafted hell beers. A Dirty Pint therefore usually consisted of the following ingredients.
A shot of each of the house spirits
Vinegar
A pickled egg
Some pork scratchings
A few pickled cockles
A liberal dash of chili sauce for that nice Dirty Pint kick
A chunk of Mars Bar/Twix depending on preference
Topped up with the lager, cider or ale of your choice (if there was room, sometimes snakebite was applied for extra fun.)
You were only usually the recipient of the Dirty Pint if you had transgressed badly at a drinking game or played like an absolute donkey on the pitch. The Dirty Pint had to be consumed in as close to one go as possible, with a bucket available for the inevitable tactical chunder. Fortunately, I think I managed to make it through three years of pretending to study while only consuming a half dozen of these monstrosities. As the list above might suggest, the Dirty Pint was neither palatable nor vegan.
Obviously, it was a cracking wheeze that Whacko and Yoda were drinking pints with seafood in them at the time. It wasn't until some years later when I was working at a real ale pub (See above, re: pretending to study) that I discovered that we added a product called Isinglass to the casks to accelerate the clearing of the beer.
What is Isinglass? Well, it's the swim bladders of fish, in layman's terms. If you've had a cloudy pint of ale, that haze is caused by the yeast used to ferment the brew. Isinglass flocculates the yeast, forming flakes or jelly-like sheets of it at the bottom of the barrel. It turned out, that even without the addition of cockles we had been drinking fish all along.
Unsurprisingly, this leads us to a problem when we are both vegan and like alcohol, which is exacerbated by current EC regulations that state;
A complete list of ingredients in descending order by weight is currently only required for drinks with an alcoholic strength by volume (abv) of 1.2% or less.
Yup. You're reading that right, and the USA has a similar piece of legislation. Unless you're drinking practically alcohol-free beer or wine, there's no need for the manufacturer to state what goes into the product. When we consider that albumin (from egg white) casein (milk protein) chitin (crab shell) and gelatine (hooves and connective tissue) are commonly used in the production of alcoholic drinks, it seems like the choice to go vegan is to by default become tea total as well. When we consider that some red wines add E120 cochineal (crushed up bugs, usually) and many sweetened alcohols use sugar that has been whitened with burnt animal bones, the available list looks pretty slim.
Obviously the addition of animal products rules out cream liqueurs and drinks like mead from the get go, but it must be noted that not all beers and wines use animal products. Spirits, for example, appear to be entirely free of any animal product at all, so the opportunity id there to finally get that brandy or whiskey palette up to scratch.
But I really like beer!
Sheesh, alright. Lucky for you (and me) there is help out there for those of us who like our beers without the addition of dismembered fish. Gosh, vegans. So fucking weird! Barnivore has a useful website with extensive lists of drinks that have been verified to be vegetarian and vegan. The project is run by a couple of people in the US but collates information from all over the world. The list is updated by people who write off to their favourite drinks company and ask them whether or not their products are suitable for us plantheads; a noble group effort, I'm sure you'll agree.
The problem remains that when we are out and about it's not always convenient to search through a website on the move. Luckily there are Android and iPhone apps that are pretty useful to help us navigate the non-vegan world of booze.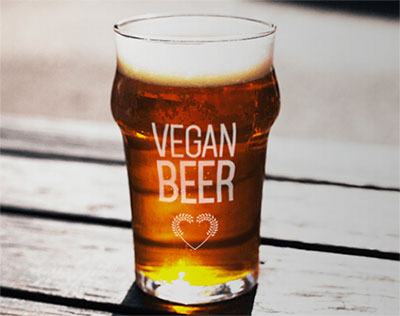 Ugh. This all sounds like a nightmare.
I know, you've just got over that Quorn isn't vegan, and now this. Here's a solution for you though if you really can't be dealing with searching for vegan-friendly beers and wines.
Brew your own! How hard can it be, we humans have been making stuff to get off our faces for millennia. There are no laws against it in most places, so long as you're brewing for your own consumption, and you get to control exactly how your beer tastes. In theory, at least. You will get the control over the ingredients though, so you can guarantee the wobble juice is animal free.
It might surprise you to learn that there are actually quite a lot of benefits to reducing our alcohol intake in any case. I used to drink probably more frequently than could be considered good for me, and it wasn't due to the non-vegan status of most of my favourite beers that precipitated a vast reduction in my consumption. I find that a vegan diet has been highly beneficial to my sense of well-being and general mental state, which, for me, would be imbalanced by regular boozing. That's just me though; as always, your experience may vary.
In Conclusion
The world of the vegan drinker is pretty much the same as the world of the vegan who buys any pre-packaged food item, except a bit trickier thanks to the inadequate labelling systems currently employed. It would be nice if the brewers and vineyards put a label on their bottles, but I think that may be some time off just yet.
On the positive side, it's good to see that the vegan community has come together through the internet to share information on which drinks are good to go. I'll finish with a pro-tip. Don't drink dirty pints. Seriously, they'll mess you up for ages, and no one will want to kiss you.