Veganism isn't just an easy way to reduce animal suffering and environmental damage, it's a dietary choice that, when done correctly, can massively improve your health and longevity.
The scientific research is so strong in this regard that an increasing amount of athletes are adopting a plant-based diet to improve performance: less inflammation, faster recovery, fewer injuries and better endurance.
In this post we take a look at 24 vegan athletes, across a broad range of sporting endeavours, who've used plant power to achieve huge success.
1. Venus Williams
Venus Williams has won seven Grand Slam singles, five of those Wimbledon's Women's Singles titles, and 14 Grand Slam Women's doubles titles. She also has four Olympic gold medals.
In 2011, Williams was diagnosed with Sjögren's syndrome, an autoimmune disease. Her doctors advised her to adopt a raw vegan diet to aid in easing symptoms of the condition such as joint pain and fatigue, and to maintain her performance on the court.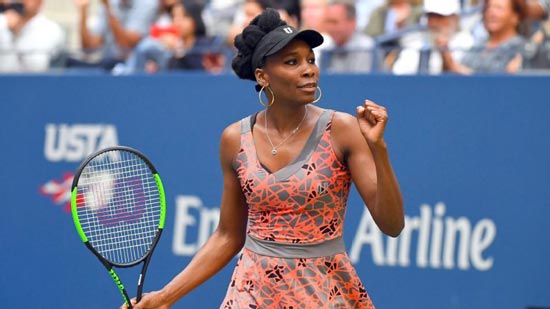 2. Lewis Hamilton
Formula 1 world racing champion Lewis Hamilton adopted a vegan diet in 2017. A Mercedes AMG Petronas driver, with several huge brand deals and endorsements, Lewis has an approximate net worth of £131 million.
In an interview with the BBC, the Formula 1 racing star shared that he transitioned to veganism to oppose the cruelty and pollution caused by the breeding and consumption of animals.
3. Fiona Oakes
Fiona Oakes has been vegan since childhood. A highly decorated athlete, Fiona earned national titles in cycling before she shifted to marathon running.
In Finland, in 2011, she set a Guinness World Women's Record for the fastest marathon inside the arctic circle, and achieved another Guinness World Record when she completed 7 marathons across all continents in the shortest aggregate time.
Fiona now runs Tower Hill Stables animal sanctuary with her partner.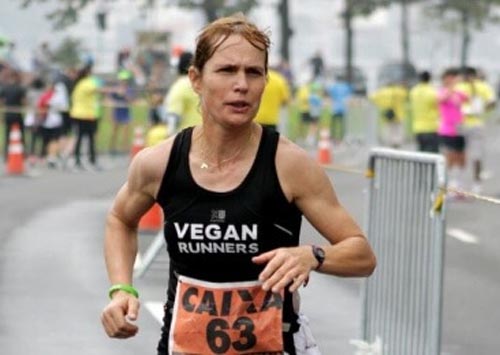 4. Neil Robertson
Hailed as 'The Thunder from Down Under', Neil Robertson is the only Australian to win a world title in the world of snooker. He is also the first non-UK Triple Crown champion and three-time World Open champion. In one season he managed to finish 103 century breaks; a phenomenal achievement.
Robertson's transition to veganism was progressive. He started out cutting down on animal products and slowly transitioned to a full plant-based diet. His decision to be plant-based is centered around optimising his health to ensure he maximises his career potential.
5. Scott Jurek
Ultra-marathon runner Scott Jurek holds the world record for the 2,189-mile Appalachian Trail. He has also set ten-course records in the sport. He has won 24 ultra-marathons between 77 km and 246 km, and he was also the first American to win the Spartathlon.
Scott won Badwater twices, a race hailed as the world's toughest footrace. Ultrarunning Magazine named him Ultra Runner of the Year three times.
Jurek believes that a plant-based diet is essential for endurance, recovery, and health. He has followed a vegetarian diet since 1997, and a vegan diet since 1999.
6. Mac Danzig
Former Lightweight champion and winner of UFC 6, mixed martial arts competitor Mac Danzig shows remarkable skills in grappling, striking, and boxing. He held an impressive record of 21 wins out of 34 fights by the time he retired in 2014.
Mac stopped eating beef and pork when he was 16 because of his respect for animals, and he turned vegan in 2004. His trainer at the time, also vegan, helped Danzig adopt a vegan diet. After going vegan, Mac held a winning streak for 12 fights.
7. Pat Reeves
It is rare for someone to be a multiple world record holder in different age groups, and Pat Reeves is one of the few who've managed to do so.
Reeves is a marathon runner and a powerlifter who set and broke her own deadlift records. She is officially the oldest competing weightlifter in Europe.
In 1977, she was diagnosed with terminal cancer. It was this diagnosis that motivated her to go vegan. Her plant-based diet aided a full recovery and she has continued to eat this way for 44 years now.
Pat says she owes her great health and energy to the raw foods that she has been eating for the past 17 years.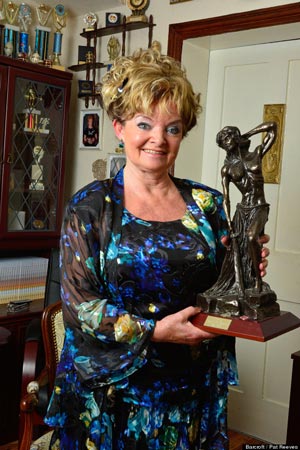 8. David Meyer
Martial artist David Meyer was the first American to win a Black Belt competition in Brazil. Considered one of the pioneers of Brazilian jiu-jitsu, David has won Seven World Championship Gold medals, four American Cup Golds, three US Open Golds and two Pan American Golds.
David's advocacy for animal rights started when he was in college. He started as a vegetarian in 1985, sticking to a mostly vegan diet, until he went full vegan in 2000.
9. Tia Blanco
As a member of the American surfing team, Tia Blanco has won tournaments such as the Corona Extra Pro Surfing Circuit O'Neill Series, Rip Curl, World Surfing Games, and Ron Jon Junior Pro.
In 2014, Tia was crowned champion in the women's category for the U18 season of NSSA Southwest and Surfing Prime America.
Tia had been a vegetarian since birth, but decided to go vegan in 2013 due to the health benefits and her opposition to animal cruelty.
10. Heather Mills
Breaking five world records in three months and earning multiple Golds made Heather Mills a decorated skier in disability sports. In 2012, she won four Golds in the Adaptive Alpine Skiing National Championships World Cup held in Colorado.
In 1993, Heather lost her left leg in an accident. She was given a raw vegan diet during her recovery and since then has remained vegan. She now owns the VBites restaurant chain and promotes sustainable and healthy living through veganism.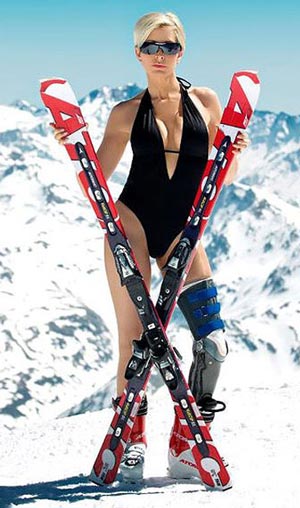 11. Patrik Baboumian
European Powerlifting Champion, Patrik Baboumian, has broken world records in three strongman events.
Baboumian holds the log lift World Record (-105 kg division) and, in 2011, he won the title of "Germany's Strongest Man" by winning the open division at the German strongman nationals.
Baboumian became vegetarian in 2005, and went vegan in 2011. He stopped eating meat because of his compassion for animals. Since he couldn't kill any animal himself, he thought it only right that he stopped paying others to do so and eating their flesh. In 2012, Baboumian won Vegan Athlete of the Year.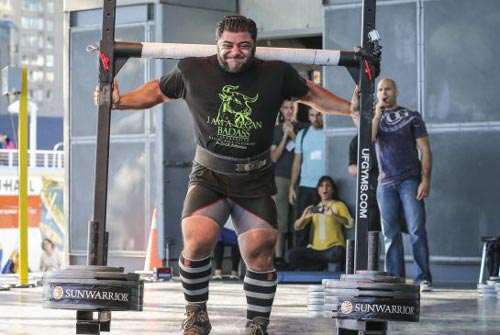 12. Austin Aries
Professional wrestler Austin Aries is one of only five wrestlers to have won the Triple Crown. Signed to Impact Wrestling, he is a three-time (in a row) Impact World Champion. He has held 14 championships, five of which are World titles. In 2018, he became the fifth man to win the Grand Slam Championship.
Austin became a vegetarian because he found the thought of eating other creatures unappealing. Then, in 2000, he cut out dairy and eggs from his diet and became vegan.
13. Alexander Dargatz
Five years before earning the World Champion Fitness title in 2005, bodybuilder Alexander Dargatz became vegan to oppose the cruelty of the animal food industries. Dargatz believes that it is a crime to consume animal products because of the harm being done to both the animals, the envionment and our health.
Dargatz cites his plant-based diet as the reason he never gets ill, and claims that his power and endurance have increased. He also avoids eating anything that uses artificial flavoring, preservatives, hydrogenated fat or flavor enhancers.
14. James Southwood
James Southwood is the first British fighter to win the World Savate title. This is particularly impressive since Savate is a popular sport in France and high expectations are set for French competitors over foreign atheletes.
Southwood founded the London Savate club, where he imparts his expertise as a senior instructor. He is the 2014 World Champion, and European Vice Champion.
Raised a vegetarian, Southwood went vegan when he was 16 because he wanted to respect animal rights.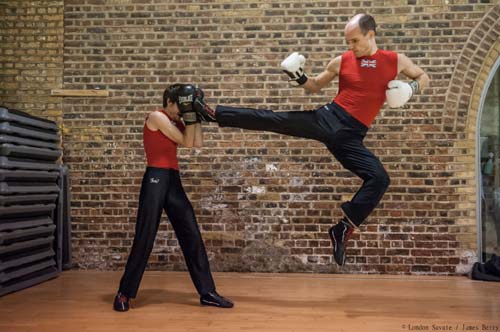 15. Carl Lewis
Being voted as World Athlete of the Decade (1980s), and Olympic Athlete of the Century, is undoubtedly a testament to Carl Lewis' career as an Olympic sprinter.
Lewis managed to retain his long jump title for 65 competitions, one of the longest winning streaks in the sport. He earned nine gold and one silver Olympic medals for sprints, long jumps and relays.
Lewis' concern for his health was the turning point in adopting a vegan diet. He wanted to reduce unnecessary calories while maximizing nutrient intake. He also realized that meat protein is not necessary to make someone a successful athlete.
Lewis says: "My best year of track competition was the first year I ate a vegan diet".
16. Cody Elkins
Cody Elkins is a successful racquetball player. He was crowned American Junior champion in 2013, California State Champion in 2014. He also excels in karate, earning a blackbelt in 2016.
Elkins was born a vegetarian and his family went vegan the day after his mother read the book Skinny Bitch.
Aside from health reasons, his family wanted to cause less suffering to animals and contribute to creating a better envionment.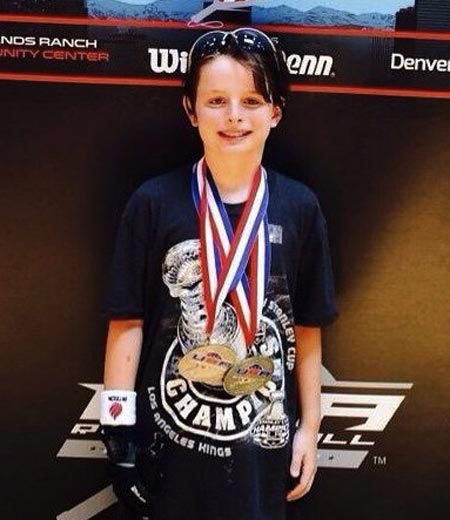 17. Meagan Duhamel
Figure skater Meagan Duhamel is a seven-time Canadian champion, two-time Canadian champion, and an Olympian gold, silver and bronze medalist.
Meagan started her vegan journey in 2008 after reading the book Skinny Bitch. The book covers a gradual transition to a vegan diet, but Duhamel felt that she needed to act more quickly. So she immediately disposed of all non-vegan foods from her kitchen.
Apart from great health, Meagan reports another benefit of being vegan is how easy it is to maintain her weight; something she has to consider for being lifted up by skate partner Eric Radford during performances.
18. Weia Reinboud
Weia Reinbound is a Dutch veteran athlete who has set over 20 world records. She started competing in masters athletics in 1995 aged 45, following decades of not training at all. Weia has excelled in the high jump, and has also taken records in triple jump and heptathlon.
Weia has been vegan since September 1982. Prior to that she was vegetarian, but learning that animals need to be slaughtered to produce dairy became the turning point for her to go vegan.
19. Rob Bigwood
Two years after starting his arm wrestling career, Rob Bigwood started feeling uneasy about eating meat. He followed his heart and went vegan.
He had previously thought that meat was essential to building strength, but proved this theory wrong by going on to win over 40 state championships.
Not only has he beaten some of the best arm wrestlers the world has known, he has also become one of the stars of the sports documentary series Game of Arms.
20. Andy Lally
World Street Luge champion, three-time Grand-Am Rolex Series champion, and five-time winner of 24 Hours at Daytona are just a few of the feats Andy Lally has accomplished in professional car racing.
He drives the Audi R8 for Magnus Racing, and also drives No. 90 Chevrolet Camaro for DGM Racing.
Andy went vegan ethical reasons in 2009. He enjoys great-tasting plant-based alternatives to dairy and meat, and continues to prove that eating animals is unnecessary in becoming a champion.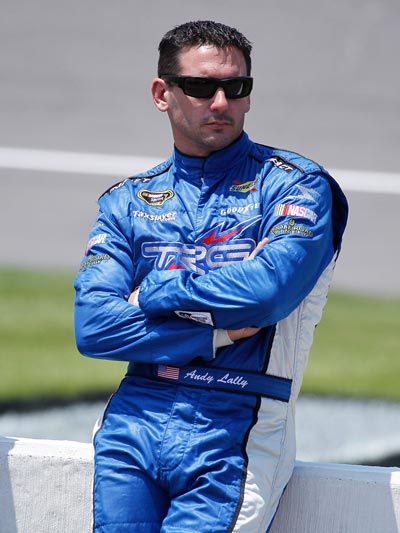 21. Denis Mikhaylov
Originally planning to pursue a career in finance, Denis Mikhaylov gave up his plan and worked on his distance running career. He currently holds the world record for running on a treadmill. He ran 12 hours, reaching 80.5 miles. He also has course records ranging from 25k to 50k.
Denis' diet largely comprises raw foods, and he avoids processed foods. His reason for going vegan was initially to improve performance, but the benefits were so good he never went back to the standard western diet.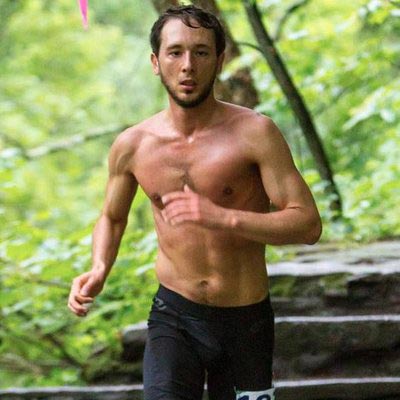 22. Ruth Heidrich
In 1982, Ruth Heidrich was diagnosed with Stage 4 Breast Cancer.  With Dr. John McDougall's help, she refused chemo, radiation and hormone blockers and went vegan. The results of the dietary change were so powerful that she beat the cancer and went on to have an incredible running career.
Exactly two years after her diagnosis, she crossed the finish line of the Kona Ironman Triathlon, becoming the first vegan to do the Ironman.
At 83 years young, Ruth Heidrich, Ph.D., went on to do the Ironman 5 more times and is the winner of more than 900 trophies, 8 Gold Medals in the U.S.Senior Olympics, and 67 marathons including Boston, New York & Moscow.
Ruth has shared her knowledge in sports and veganism by penning three books, namely: Senior Fitness, A Race for Life, and The CHEF Cook/Rawbook.
23. Michaela Copenhaver
Michaela Copenhaver started rowing in 2003. She continued at University, where she competed at two National Collegiate Athletic Association (NCAA) championships and one Intercollegiate Rowing Association (IRA) championship.
In her senior year, she set a Sprints course record and won an IRA silver medal as stroke seat of the lightweight varsity eight.
Michaela has broken the world record for 10,000 metres indoor rowing for her category.
In 2015, Michaela won two national titles at the U.S. Rowing Elite National Championships, in the Lightweight Women's Quad and the Lightweight Women's Double.
A vegetarian since 2010, Michaela went vegan in 2012, aged 22. The transition came about when she tried going a week without eggs and dairy; she was traveling and unable to store these products. The rest, as they say, is history.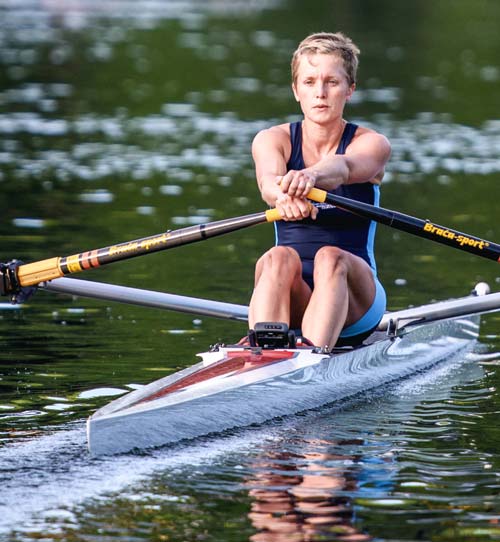 24. Dustin Watten
US volleyball player Dustin Watten has competed in Brazil and France in high profile leagues. He has also represented his national team.
Dustin's journey to veganism started with a browse of a bookshop before a long-haul flight.
He picked up Rich Roll's Finding Ultra and read the book while he was on the 14-hour flight. Upon landing, he was so inspired by Rich's story that he decided to go vegan.  the book that he decided to go vegan.
In 2009, Dustin was part of the team that beat Canada in the Pan American Cup in Mexico, bringing home gold for his country.