When you first decided to go vegan, you may have taken a brief moment of silence to mourn the fact that you would no longer be able to eat chocolate.
But I'm sure it wasn't long before you realized that what going vegan actually means is a moratorium on cheap, poorly made chocolate, which is a bummer for your junk-food oriented tastebuds but a serious plus for your body.
Another positive is that there is a veritable world of ethically made, relatively healthy and unprocessed vegan chocolate that will satisfy body, mind and ethics and won't break the bank.
If you're vegan and hesitant about keeping chocolate in the house for health reasons, fear not! Cocoa beans are quite healthy and many vegan chocolate brands take pains to keep those health benefits in tact.
The freshly harvested beans are chock full of healthy compounds (over 300!) that include polyphenols, theobromine, phenylethylamine and flavonoids.
That's a mouthful in and of itself, but consider that cocoa beans also contain potassium, copper, iron, magnesium and calcium, in addition to over 620 antioxidants. Just compare that to the 60 that wild blueberries have.
Craving chocolate after a long, tough day at work?
There's a reason for that!
Chocolate is also known as an all natural anti-depressant because it contains important chemical components to happiness that include dopamine, phenylethylamine and seratonin.
Plus- yes, it gets better- cocoa beans also are full of monoamine oxidase, which keep dopamine and serotonin in the body for a longer period of time, successfully combatting gloominess.
I think we can agree- chocolate is heavenly. Those who are dairy intolerant, vegan, ethically inclined and kosher agree, and they make up 75% of the chocolate market.
As the demand for dairy free and more healthful chocolate rises, so does the number of vegan, health conscious chocolate companies.
Thankfully, this gives vegans, the dairy intolerant and the health conscious many reasons to celebrate on Christmas, Easter, birthdays, etc…
Below, I've compiled a list of the best chocolate in the US and the UK.
For those interested in the healthiest fix: make sure your bar has 70% (or more) cacao, that it is dairy free and that it eschews palm or coconut oil for pure cacao butter.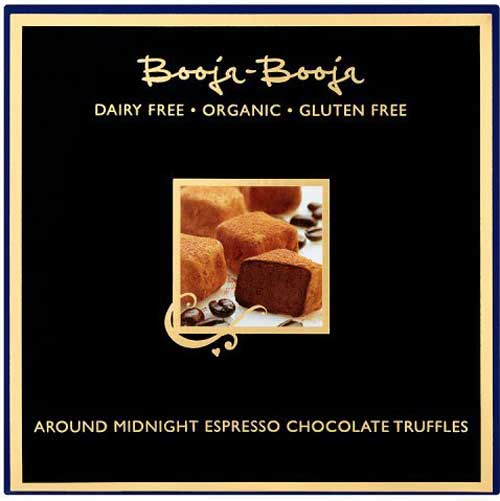 Luckily for those in the US and those across the pond, Booja Booja is available in both locations, though US chocolate fiends may have to wait a bit longer to get their fix.
Patrons of Booja Booja note that their truffles melt easily, so stick them in the refrigerator to save them from the heat and also from hungry munchers who won't be able to resist.
Universally touted as unbelievably delicious chocolate, Booja Booja is sure to satisfy. It's also made with 100% Ecuadorian chocolate- favored flavors include raspberry truffle and hazelnut crunch truffle.
The 6 piece vegan truffle box from Creek House is bound to satisfy chocolate and fruit lovers with its unique flavors: Berry Berry, Chili Mango, Dark Espresso and Orange Coconut- all robed in high quality 66% cacao chocolate.
All chocolate is fairtrade and preservative free. Creek House also offers a solid chocolate Easter bunny for kids, because…tis the season!
Sweet Virtues seeks to satisfy UK buyers' sweet craving with a variety of finely made bars in delicious flavors that include Ginseng Maqui Berry and Baobab & Vanilla. Most Sweet Virtues products contain soy, but are chock full of antioxidants from the added superfoods!
Perfect for hungry munchers on the go, D's Naturals has a variety of delicious grab and go bars that can satisfy a chocolate craving anywhere, in any flavor (chocolate fudge, blueberry cobbler, chocolate banana, dark raspberry, lemon meringue pie, mint cacao chip, peanut butter chocolate and raspberry truffle).
D's Naturals also promises clean protein from brown rice and pea, in addition to natural sweeteners like monk fruit and stevia. They'll fuel you without all of the nasties of your typical protein bars!
Moo Free boasts the use of all organic ingredients in their chocolate products, which includes a giant chocolate egg for upcoming Easter festivities. The UK based company also promises that their goods are gluten free, and fans rave about Moo Free's smooth and non bitter aftertaste.
For those who are more inclined to favor that sweet, milk chocolate taste, this chocolate (conveniently milk free) is for you!
At 74% cacao, Dagoba is one of the healthiest, yet most delicious, dairy free chocolates out there. Kosher and gluten free, Dagoba also sells baking and melting chocolate so you can indulge with some delicious baked goods.
Dagoba ensures that all of its products are organic. In addition, the company has joined the Rainforest Alliance in order to promote sustainable harvesting of cocoa beans!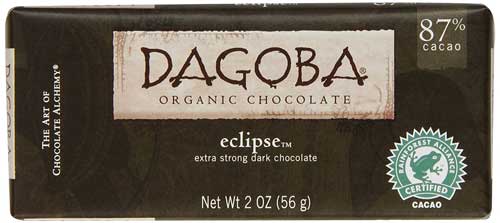 Celtic chocolates deliver big on taste and texture and are gluten free friendly! Celtic chocolates also delivers in terms of holiday themed goodies, the most popular being a decadent looking Easter egg, just in time for the start of the Easter season.
Fans of Celtic chocolates note that you'd never be able to tell they don't contain milk- good news for recent dairy free converts!
Endangered Species brand uses some of the highest amounts of cacao in this list with levels ranging from 72- 88%.
This company also solidifies its commitment to ethically sourced cocoa through its line of Endangered Species Chocolate, which gives 10% back to protect wildlife and their habitats.
This line also features a host of bars that are studded with goodies like espresso beans, blueberries, forest mint, hazelnut toffee, cherries, raspberries, and more. This is the perfect treat for any animal lovers in your friend group or family!
While G.org.e may be organic, free from added sugar, gluten and soy, AND raw vegan, it doesn't mean it's devoid of taste. Far from it, in fact. G.org.e is some of the most delicious vegan chocolate around and it comes in the form of perfectly crafted truffles and artisinal bars.
Looking to get some health benefits with your chocolate? UK munchers, look no further than G.org.e!
Larabars are wildly popular in the States and for good cause- they're minimal ingredient whole food bars made from 5-7 products. They are gluten free, non GMO, soy free and dairy free, so health nuts can rest easy. Larabars are perfect for the office, school, or on the run- literally.
They come in a variety of different flavors, including apple pie, blueberry muffin, cashew cookie, cherry pie, chocolate chip dough, coconut cream pie, peanut butter, chocolate chip and peanut butter cookie. They're also kosher and Larabar uses fair trade chocolate- what could be better?
Dr Lucy's gluten free (and vegan) chocolate chip cookies are a godsend for those who longingly reminisce about the crispy, hot cookies that were a hallmark of childhood.
Dr Lucy's cookies are made with high quality ingredients and organic cane sugar, not to mention the perfect blend of gluten free flours. If you're looking for the best vegan, gluten free cookie you can find, look no further than Dr Lucy's!
Enjoy Life's inventory of gluten free, soy free, nut free, egg free, kosher, non GMO and all natural products is mind boggling. They have everything from baking chocolate and mixes to soft baked cookies and chocolate bites- and they're all delicious.
Next time you need to bake for a school event or a potluck, consider Enjoy Life products, because they're some of the cleanest you can get.
Love marshmallows but hate gelatin? Ananda Food is the company for you- they're the purveyors of handmade, gelatin free marshmallows from the heart of the UK. They also source their ingredients from Britain and use certified organic cocoa.
All ingredients are non GMO and cruelty free, wheat free, gluten free and mostly soy free. Chocolate fan? Try out Ananda Food's delectable 'round ups'- marshmallows coated in a layer of decadent chocolate- they're sure to make you hop on the vegan, gluten free train.
Baking phenom? Looking for gourmet, vegan, kosher, non-dairy, nut free chocolate chips? Look no further than California Gourmet, which only uses 45% cocoa, cane sugar, cocoa butter, soy lecithin and natural vanilla extract. They're sure to improve any baked good and become a quick family favorite!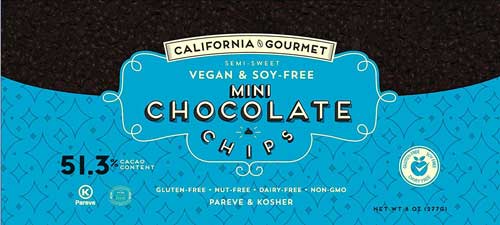 In the mood to graze? The Goodness Project has a hamper for that. Their box features 13 chocolate and snack bars for your choosing and most- if not all- are approved by the Vegan Society.
The box is hand-packed and you can include a customizable message to accompany the chocolate delights! It's the perfect gift for any occasion for a chocolate loving friend.
Fortunately for fans of iChoc, it's readily available in both the US and the UK. Besides iChoc's admirable commitment to organic chocolate and sustainable, fair-trade farming practices in the Dominican Republic, they also offer a myriad of flavors.
These include jungle bites, sunny almond, almond orange, choco cookie, classic, super nut, white nougat crisp and white vanilla. All bars are sweetened with unrefined coconut blossom sugar or raw cane sugar and are naturally delicious.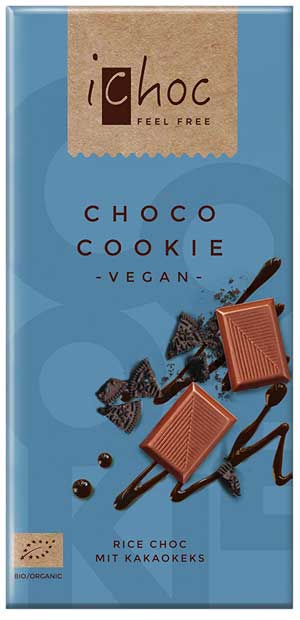 The pinnacle of delicious, chocolatey to-go bars, the Bixby Bar is a vegan, organic and totally delicious option for those who want a quick snack. Flavors include Hazelnut, Maine Blueberry, Strawberry, Peanut Butter, Whippersnapper and Gingered Up.
All bars are vegan verified, kosher, non GMO, gluten free and contain Rainforest Alliance certified chocolate. US buyers, indulge on the go!
Lucky for UK chocolate lovers, Organica's delicious chocolate in a variety of flavors is available in full bar size and also in nougat to go bars. All are vegan friendly and are suitable for coeliacs.
They are delicious and perfectly chewy- you won't even be able to tell they're vegan and gluten free! For a delicious, organic chocolate treat, consider Organica!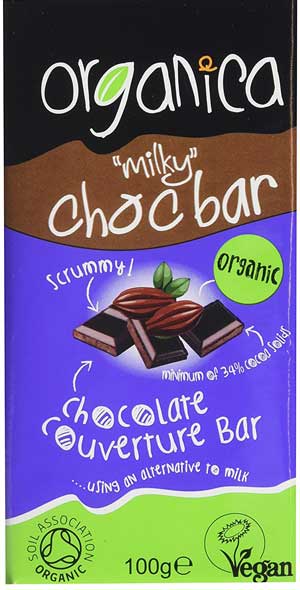 Need a protein boost? It can be hard to find relatively clean vegan protein bars, but reach for a NuGo, and you're guaranteed prolonged and sustained energy. NuGo is non GMO, kosher, vegan, has soy and brown rice protein and is sweetened with agave and natural flavoring.
Flavors include chocolate chocolate chip, chocolate pretzel, coconut, mint chocolate chip, mocha chocolate, peanut butter cup and spicy chocolate.
In the UK, Vego is now a staple in the chocolate lovers community. The whole hazelnut chocolate bar is vegan and gluten free. Even their sugar is vegan (non-bone char), which is excellent for those looking to be holistically cruelty free.
In addition, Vego chocolate is organic and fairtrade and the company uses only the finest ingredients, including high quality Italian hazelnut paste. Vego is here to stay and you're guaranteed to love its rich, creamy taste.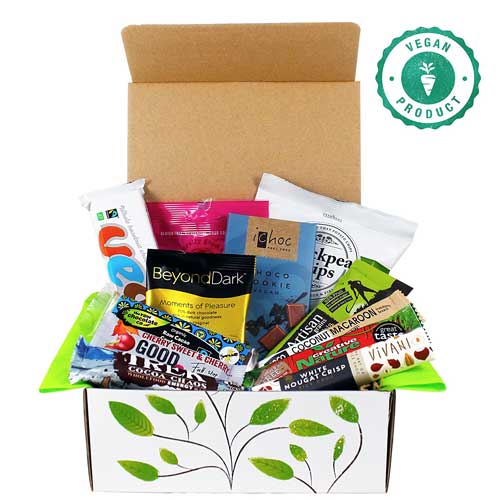 Looking for fairtrade vegan baking chocolate? A vegan alternative to Nutella? Look no further than Plamil, which supplies delicious versions of both. All goods are gluten free, egg free, nut free and largely organic.
Plamil also produces 'no added sugar' chocolate that use Xylitol. Plamil is committed to ethics: production is SALSA certified and Plamil is also certified by the Fairtrade Foundation, the Soil Association, UTZ and is labeled as Kosher.