I hate buying gifts. Perhaps that's not the best way to start out an article about buying vegan gifts for a friend. But it's true: buying people appropriate gifts is difficult unless you really know them inside out. And even then, it's sometimes difficult to decide.
But before you give up and simply throw some cash in a card, have a gander through my Vegan Gifts List below…
Whether a birthday, Christmas or just a nice surprise, I've selected 20 items, all available at the click of a button from Amazon.
There's something here for pretty much every type of vegan: The first two are safe bets for all, and additionally there's ideas for vegans who like to cook, vegans who like to promote their cause on a t-shirt, and vegans who like to read.
If you really don't know that much about your vegan friend, I'd go with either 1 or 2. They'll be thrilled, I promise.
If instead you'd like to go on more of a long shot and prove that you at least know a thing or two about the person on the other side of the gift, check out the other 18 selections. Just make sure that your vegan friend really does cook, read, or eat vegan gummy bears!
I've marked a couple of the items explicit; because they are. So if your vegan friend is easily offended or non-confrontational, I'd shy away from these – but there are plenty of other options to please.
20 Brilliant Vegan Gift Ideas
1. Yonanas Frozen Healthy Dessert Maker
If you haven't tried Yonanas you cannot begin to know what you're missing. They're actually just frozen, over-ripe bananas, but they taste like magic.
The texture is a dead ringer for soft-serve ice cream and the taste is even better. Sort of a banana sherbet. Plus it's a heck of a lot better for you than the dairy stuff.
The machine is essentially just a blender with a small banana shaped mouth. You could try using a standard blender to do the same thing but they'd come out lumpier and you'll make a right mess. That's what happened to me when I tried to make them in my Ninja, anyway. This is literally the next thing I hope to receive as a gift.
This gift would be good for anyone who's Vegan. No caveats here. Unless they already have one or are diabetic.
>> Check out the spec details here <<
2. Pure Abundance Vegan Cheese 4 Pack
This gift tastes amazing and is probably something they haven't seen before. It's pretty pricey for what amounts to only a pound of Vegan cheese, but you'll be a hero when they open it.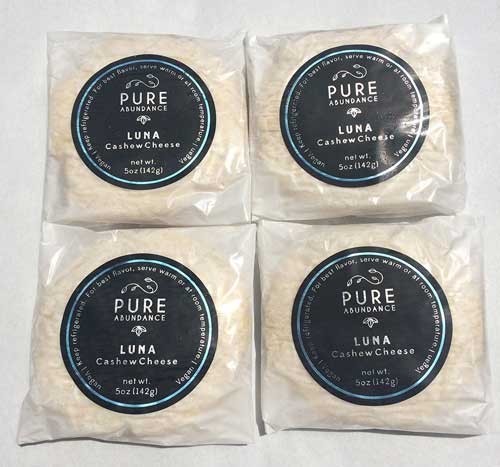 >> Get your vegan cheese on here <<
Gifts for Vegan Foodies and DIY'ers…
3. The Seitanic Spellbook (explicit)
If your vegan friend is a metal head then this is a definite winner. The Seitanic Spell book is not only full of amazing vegan recipes, it's also pretty damn funny and filled with beautiful artwork.
It's almost worth buying even if you don't plan to cook. It'd be an amusing next-to-the-toilet item, or fit right in as an interesting piece on a vegan's coffee table. The whole thing plays on the similar sound of the words 'satan' and 'seitan' (wheat gluten that tastes meaty) though so it may not the best gift for a religious vegan.
4. Thug Kitchen Official Cookbook (explicit)
"Eat Like you Give a Fuck," the cover commands. This book is full of recipes that are good, good for you and good for everyone else who inhabits the planet – human or not. Plus it's a pretty interesting read. Not recommended for the faint of heart.
5. The Veganomicon
This book of recipes is a little more straight laced. No swear words or dark incantations. It's also a bit more thorough than the other two. You won't get that burst of laughter when your friend opens it, but it's a solid gift for any Vegan who spends time in their kitchen.
6. Artisan Vegan Cheese Guide
Believe it or not you can making wonderful vegan cheese that easily rivals the stuff that comes from cows. If your friend is a do it yourself type, and especially if they live in an area where there isn't any vegan cheese available, this is a great gift idea.
With a little practice, your friend can make you some of the wonderful cheese that comes in gift idea 2 but without the crazy price tag.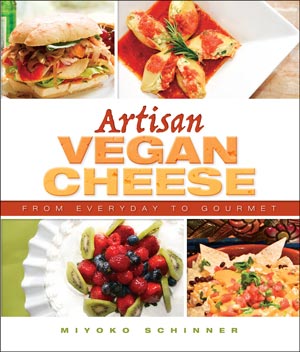 7. Vegan Soul Kitchen
Is your vegan friend a fan of soul food? You'll get extra points for knowing what sort of food they like if so. This Cook book might be a better fit for them if they're a little more serious about cooking and a little less interested in having something funny displayed prominently in their kitchen.
Unlike some of the soul food you might have had in the past, the author of this book attempts to conjure up all of the flavor without the sugar, salt and animal fat.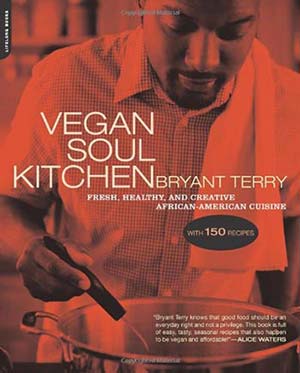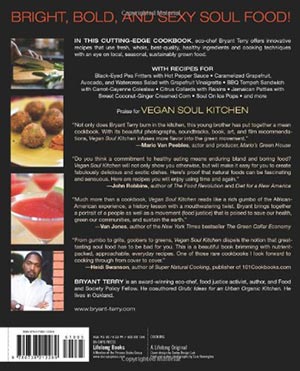 >> Read the Soul Kitchen reviews here <<
8. 6 Quart Electric Pressure Cooker
If your vegan friend does a lot of their own cooking then chances are they use a lot of beans. They may not even be aware that the can cut the amount of time required to cook most beans by using a pressure cooker rather than standard pots and pans. It's also a lot harder to under or over cook them this way too.
>> Get your friend's beans cooking quicker <<
9. Gummy Bear Mold Set
A childhood treat without the cruelty, this is another great gift for the vegan who doesn't live near a city big enough to find everything in.
A fun, easy DIY kit that includes a recipe for vegan gummies, this is very inexpensive and requires a lot less cooking prestige than many of the other gifts.
>> Check out this cool vegan gift here <<
10. Tempeh Starter Culture
This is a gift for the serious DIY'er vegan that is willing to take their nutrition seriously. Tempeh is an amazing meat alternative that contains tons of protein and some helpful B vitamins.
Do keep in mind your friend will need to find raw soy beans and be willing put in a little effort. For serious cooks only.
11. Vegan Yogurt Starter
Until recently yogurt was one of the only things I missed having as a vegan, but  now I make my own soy yogurt.
It's great for your gut flora and can be added to a number of recipes that wouldn't otherwise be vegan. Great for serious vegan cooks.
12. Euro Cuisine Yogurt Maker
This would go great with gift idea 11. It can be hard to keep your yogurt cultures at exactly the right temperature, so this machine will probably save your friend from at least a couple failed batches.
It also means that they can set the culture up and walk away from it as other warming devices not designed for yogurt can easily overcook cultures.
13. Organic Kombucha Scoby
This is super interesting but may not fit many vegans, as you can see from the picture below. But if your friend likes to experiment and cook (and likes Kombucha) you'll easily amaze them with this. In fact, for a Kombucha fan, this is heaven.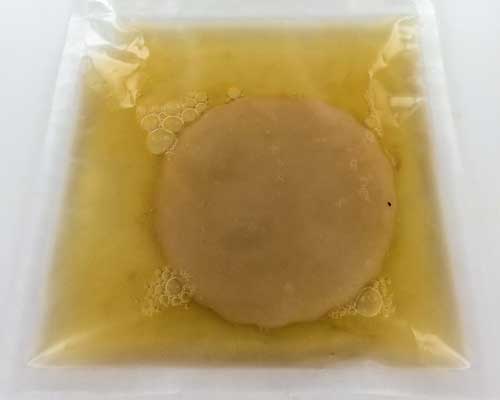 >> Buy this gift here (it's cheap too!) <<
Vegan T-Shirts
14. Eating Animals is Weird T-Shirt
Vegans get a lot of negative attention. Help your vegan friend passive aggressively give a little back to all the haters without even opening her mouth with this amazing cotton tee. Make sure you get the right size.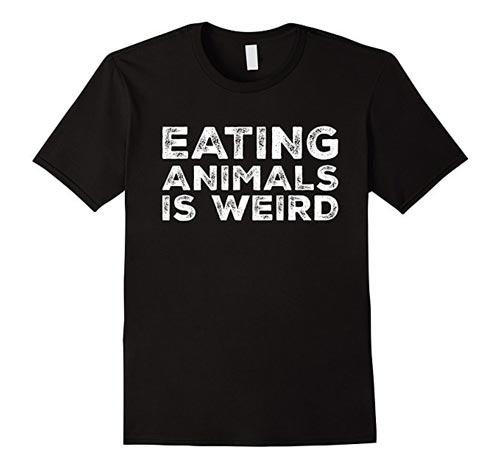 >> See sizes and colors here <<
15. Go Vegan Banana – T-Shirt
Slightly less judgmental than my suggestion. For the vegan birthday boy who wants to share his views without calling anyone names. Comes in a variety of colors.
>> See sizes and colors here <<
16. Not Your Mom, Not Your Milk – T-Shirt
Enough said right. If your vegan friend is willing to conjure up a little negative attention for the sake of sticking it to the dairy industry this may be the perfect gift.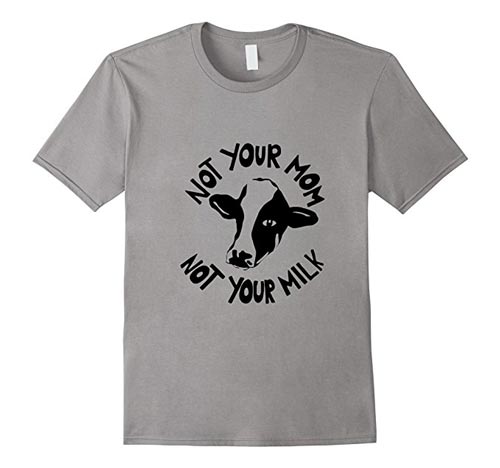 >> See colors and sizes here <<
17. Quit Eating my Leg you Sick F*ck' Lamb Decal (explicit)
Apply this irreverent sticker to any surface that needs more flare. It should last for at least 7 years; so just remember you friend will be dropping the F bomb for that long.. But it's cheap and pretty original.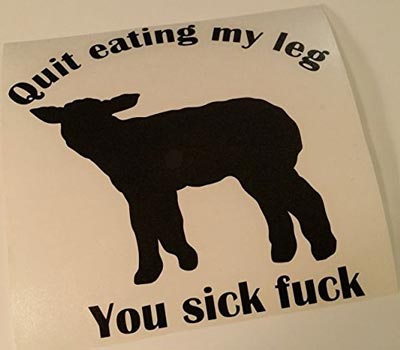 >> Buy this decal here on Amazon <<
Books for Vegans Who Like Reading
18. Peter Singer's Animal Liberation
In many ways Animal Liberation is a basic introduction to Veganism, but a classic all the same that should be on every vegan's bookshelf. It will find a happy home with any vegan who has a taste for reading.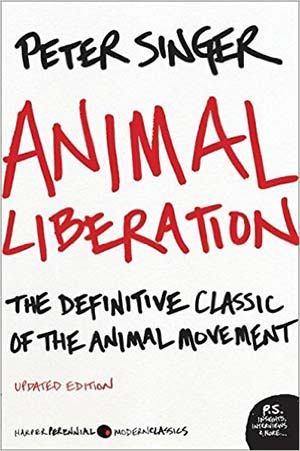 >> Read the reviews on this classic book here <<
19. Melanie Joy's "Why we Love Dogs, Eat Pigs and Wear Cows"
A newer book, Joy's "Why we love…" helps vegans understand the psychology behind carnism.A very interesting read for the vegan who wants to really think about their ethical choices.
Voted in the top ten books of 2010 by VegNews Magazine, it offers an absorbing look at why and how humans can so wholeheartedly devote ourselves to certain animals and then allow others to suffer needlessly, especially those slaughtered for our consumption.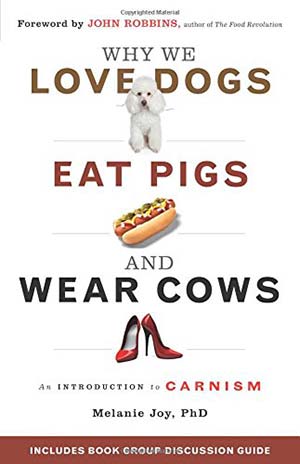 >> Read the reviews on this compelling book here <<
20. Jonathan Balcombe's "What a Fish Knows"
Many people have doubts about whether or not fish enjoy the same sort of social interaction as humans and other mammals. This book makes an impassioned argument that there is a whole lot going on upstairs and that we ought to be treating fish a lot better than we do.
>> Get your friend this vegan-inspired gift here <<