As Christmas draws in, it's time for a festive recipe, and nothing says cold evenings, crispy snow underfoot and a tipple by the fire like a slice of pumpkin pie.
From start to finish this delicious dessert will take under an hour, meaning you won't spend all evening in the kitchen and miss out on great Xmas TV and fun with the family.
I really enjoyed making this pumpkin pie, as you can see by my pictures, and I hope you do too. Merry Christmas!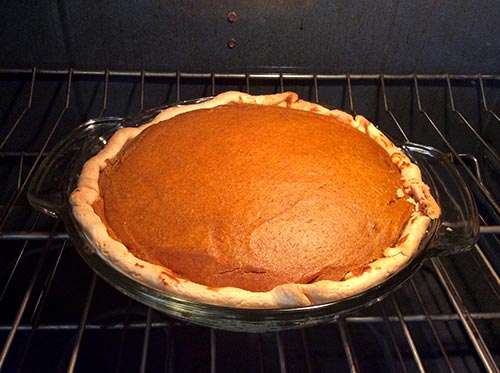 Ingredients:
1 can (15 oz/425 gr) 100% pure pumpkin
1/4 teaspoon ground gloves
1/2 teaspoon ground ginger
1 tablespoon unsweetened almond milk
1 unbaked 9 inch shortcrust pastry
Directions:
1. Add cashews, water and salt to a large bowl/Tupperware container. Cover and store in fridge overnight 12-18 hours.
2. Preheat oven to 200 C.
3. Drain cashews and pour into a blender. Add pumpkin, maple syrup, spaces and almond milk and blend until creamy.
4. Place shortcrust pastry into a 9-inch glass pie dish.
5. Pour pumpkin mixture into pie shell and smooth the surface with a rubber spatula.
6. Carefully place strips of foil over the pie crust edges and bake pie in oven for 15 minutes at 200 C. Reduce temperature to 150 C for another 40 minutes until a toothpick. Remove foil from the edges and bake for a further 5 minutes.
7. Allow pie to cool for 30 minutes. Chill in the fridge for at least 2 hours before serving.
—————————————————————————————————————-
Note: This recipe can also be made with a graham cracker crust. I will be making a graham cracker crust recipe for Christmas and will upload the photos when it's done.