Oh man, those preachy vegans; always shoving it down our throats with videos of animals being abused and slaughtered. How dare they push their beliefs on to me. I don't push mine on to them!
Do meat eaters really hold the belief that the cruelty, suffering and pain inflicted upon animals by the factory farming industry is justified by a desire to eat meat?
I'm not sure they do. I think the majority of people just avoid facing and admitting the truth.
There's a reason slaughter houses don't have windows. There is a reason that for so many years, until the power of social media began to remove the veil, that the abuse, which is perpetrated daily on a massive scale, was largely hidden from the public.
This veil, combined with clever marketing, which often features happy cows willing to hand over their milk, smiling pigs willing to hand over their flesh, and dancing chickens happy to be fried, disconnects the link between the animal's life/sentience and the meat/secretion on the plate.
I used to be a meat-eater. I have experience of living on both sides of the fence. And it is amazing just how different things look when you are able to lift the veil and stare the truth in the face.
The thing is this: if it were the case that we had to farm animals on this industrial scale to survive, I can understand people not wanting to be reminded of where their food comes from; no one wants to be continually reminded of a necessary evil, right?
But we don't. It is unnecessary.
So why do people get so angry and hateful towards vegans? Why is it that people are so anti those trying to reduce suffering, pain and destruction in the world?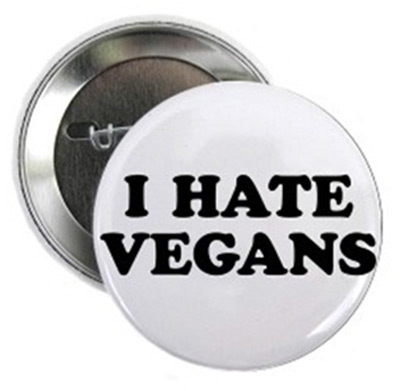 It's weird.
I look back on 35 years of eating meat. I recall the times that I met vegans and vegetarians. My great uncle was a vegan. My uncle (a different one) was/is a vegan. Over the years, I worked with two vegans and a number of vegetarians.
I always respected their opinions and was interested in the decision they had made. However, it was completely contrary to what I was being taught, especially being heavily involved in sport.
I never felt any hate or resentment after debating their stance on animal agriculture / the meat and dairy industries. I certainly never accused them of preaching; perhaps because I didn't see them in a religious capacity.
In fact, the way they were living their lives was simply an extension of my own compassion for animals, yet I still ate animals because I thought that I needed to.
I was taught that those people had their hearts in the right place but that they were naive and would succumb to some kind of illness or disease through poor nutrition.
I recall a time when my uncle was handing out leaflets outside of McDonald's to educate people on why they shouldn't be eating the food. Some of my family members mocked his participation.
I thought that was unkind. I didn't see anything wrong with what he was doing, and at the back of my mind I knew that beyond the golden arches were something very cruel.
I was always an inquisitive person who asked a lot of questions, but not educated enough to go out there and connect the dots, at least not at that age.
In my early teens I began to refuse red meat. I distinctly remember telling my mother on a few occasions that the beef in my spaghetti bolognese "tasted like the cow".
I look back on this as a turning point for me, but it would still be many years and take many other junctions in the road to lead me to a plant-based lifestyle.
We Used to Have an Excuse, Not Anymore
As the years went by and I met more vegans and vegetarians through different social channels, my general defence in debate was to use what I now understand to be pseudo-nutrition.
Much of this information was picked up in the gym, from football coaches and sports masters, and from magazines and other literature which I just took as gospel.
Years later, when social media started to lift the veil on the animal abuse and the environmental destruction, I would acknowledge it by saying that I tried my best to eat organic, so-called "humane" meat.
As an animal lover – or at least so I purported to be at the time – I'd wince at the videos I saw and look away, unable to watch the harrowing images.
One way to make myself feel better about the situation was to follow the paleo diet and eat "free range" meat and eggs. This also excluded dairy.
This diet also equipped me with the misinformation to debate on the premise that I was following the "diet of my ancestors".
Unfortunately this movement was fairly quickly debunked by anthropologists, biologists and the like. There's also a mountain of scientific evidence to show that high animal protein, high fat diets like Atkins, Paleo and Keto are dangerous in the medium to long term.
Anyway, that's for another post… 
The thing is, the argument for the nutritional value of meat and dairy may have, at one time, had a leg to stand on – particularly because people were subject to limited availability of knowledge.
No one should blame their parents or themselves for not asking more questions, not going to the library and digging into health journals, or using themselves as test dummy to see if an alternative diet was possible.
Looking back, we now know that there was a huge amount of  evidence that excess animal protein negatively affects health and contributes to numerous diseases, but because it didn't fit the mainstream narrative, we weren't going to find out about it.
We didn't have the vehicle of social media, and the information resource that is the Internet. The average person just wouldn't have been able to uncover this knowledge, and if they had they most likely wouldn't have known what to do with it and how to get started.
Even today, doctors still only have handful of hours of nutritional training during the 16 years before fully qualifying. If their knowledge of nutrition is so basic, what hope does that hold for their patients?
Consider that the extensive findings of The China Study weren't published until 2005, and the work of Nathan Pritikin, Dr. Caldwell Esselstyn, Dr. Dean Ornish, and biochemist Thomas Campbell was something largely buried in peer-reviewed medical journals, and only experienced by those lucky enough to come into contact with such progressive nutrition-focused doctors and researchers.
Of course, there were people who did seek this information out, my great uncle was among the few. Mother Nature rest his soul: he was by far the fittest member of my family and was walking everywhere, every day, slim and happy until the end.
It was people like my uncle that inspired the whole foods revolution of the 70s and 80s, and indeed influenced my mother, who raised me with the principle of eating whole, unprocessed foods.
But the lobbying power of the meat and dairy industries, and the championing of farming and its importance to the economy has meant that the food pyramid, and the food chain has always been controlled by those with vested interests in seeing the population consume as much meat and dairy as possible.
However, with what we know now, through the power of the internet and broad access to peer-reviewed scientific research, nutrition is no longer an acceptable excuse. In fact, it should be the primary driver in pushing for change.
That being said: because people are empowering themselves with nutritional knowledge, the picture is being deliberately muddied with misinformation to make us confused and second guess the truths we find.
But some things are undeniable. They are scientific facts.
We know that the standard western diet is harming us. We know that meat is carcinogenic, particularly processed meat.
We know that dairy is very unhealthy. We know a plant-based diet can reverse heart disease, type II diabetes, and can help prevent the development of certain types of cancer.
But still people persist with eating more and more meat and dairy products.
The American Cancer Society says that you have a 47% lifetime chance of getting cancer; if you are female it's still a whopping 38%.
The rates at which Americans die of cancer are among the highest in the world, except for types that are vetted for such as lung cancer caused by smoking. So even after 50 years of the war on cancer, hardly any progress has been made.
Yet we still spend billions of dollars worth of taxpayers money on bringing new, more efficient chemotherapy drugs to market. Why not spend some of that money on nutritional research?
…Because there isn't a lot of money in green vegetables, especially when people can grow them themselves.
Overweight Americans significantly outnumber those of a healthy weight.
According to the National Centre for Health Statistics, more than 1/3 of the adult 20 years of age and above are obese. Similar trends are occurring in children as young as two years of age.
According to the Diabetes Association, 1 in 11 Americans now has diabetes and the ratio continues to rise.
And then there's heart disease, which will kill 1 of every 3 Americans. According to the American Heart Association, over 60 million Americans suffer from some form of cardiovascular disease including high blood pressure, stroke, and heart disease.
Yet everyone still continues to ignore the elephant in the room, which is the evidence that very close to a hundred percent of heart disease can be prevented and even reversed by healthy diet – consisting primarily of plant-based, whole foods.
Lifestyle diseases are out of control. A large percentage of them are preventable through dietary change, particularly within the first 60 years of life.
And then there is the environmental destruction. Farming meat, beef in particular, is destroying the planet; the very thing supporting the existence of our species.
Beef requires 28 times more land to produce than pork or chicken, 11 times more water and results in five times more climate-warming emissions. When compared to staples like potatoes, wheat, and rice, the impact of beef per calorie is even more extreme, requiring 160 times more land and producing 11 times more greenhouse gases. ~ The Guardian.
1 to 2 acres of rainforest cleared every minute to make way for grazing animals.
50%+ of the world's grain is fed to animals, and not to the 800 million people going hungry every day.
Factory farming and mass animal agriculture in general is highly unsustainable and impractical. It has a negative impact on our health, on the planet, and on the animals.
It is unnecessary.
I am going to stop there on nutrition and the impact to the environment because I cover this in many other posts, and indeed in my replies in the comment section of many of my posts.
Whether you agree with a particular statistic, or a particular study, it is undeniable that a person can live a very healthy, long life on a plant-based diet, while simultaneously reducing their negative impact on the environment and animals.
Sure, you can eat a small amount of "good quality" meat and remain healthy and fit, but when considering the broader ramifications, why would you?
Even if we say it's absolutely equal, that a plant-based diet and a meat-based diet are just as beneficial to health as each other.
Even if we level the playing field like that and call it a draw, it still begs the question: why would you unnecessarily pay someone else to cause immeasurable suffering to non-human sentient beings for the sake of unnecessarily desiring the taste of their flesh?
The reality is that this is simply a matter of right and wrong.
We have a choice.
As an intelligent species, with a healthier food alternative for every instance of flesh, we have a choice to not participate in cruelty and the destruction of our planet.
It is just a simple case of doing the right thing.
How Animal Creulty Videos Challenge Your Conscience
Out of the big three – animal welfare, nutrition, ecology – it seems as though vegans are most disliked for exposing animal cruelty.
Tell a meat eater to eat more vegetables because the Seventh Day Adventist study says they will live up to 6 years longer and they will happily take a look at the research.
Tell a meat eater to go vegan to stop cruelty to animals and they roll their eyes with that "Oh, God, stop preaching, will you" look.
Vegans are like so annoying. They bang on about animals feeling pain and how more than 3,000 animals die every second in slaughterhouses around the world. Actually, though, one did tell me that eating less KFC would make my skin clearer, so maybe it's not all bad.
Why is this?
Because there is no moral justification for selectively breeding animals to imprison them, raise them to a particular physical specification, feed them an unnatural diet in an unnatural environment, cause them pain, fear, and distress, and then slaughter them for their flesh, or keep them enslaved for their secretions.
There is no defence.
Exposing the video footage and images exposes the individual watching.
There is nowhere for the conscience to hide.
That is an uncomfortable feeling.
People hate on vegans because vegans become an unwanted mirror of conscience.
I had always considered myself an animal lover. We have always had a pet dog in our family. I could not bear the thought of someone abusing an animal in any way. I just could not watch animal cruelty videos.
Then, back in 2004 when Facebook started and I was exposed to horrific footage that I've never seen before and couldn't imagine happening, I would watch a few seconds and then just turn it off.
Had I forced myself to watch these videos, I would have had to look in the mirror and admit to myself that no, I don't love animals, that I am a hypocrite and that I am partly responsible for this horrific, unnecessary cruelty.
Facing the reality of the evil of factory farming doesn't just bring in to question your love of animals, but your entire moral compass as a human being.
I mean, what kind of person turns a blind eye to this?
What type of person does this unnecessarily?
Well, me, at one time.
When the truth is laid bare in front of you, all you can do is turn a blind eye and try to forget about it before your next meal; and of course hate the vegan who keeps shoving this truth in your face.
Rather than acknowledge the truth and accept that supporting the cruelty is wrong and selfish, people have a tendency to curse the messenger for trying to protect animals from suffering.
They chastise the vegan for their kindness and compassion. They shoot the messenger. It's easier.
It's madness.
What sort of world do we live in when the person defending suffering and destruction is verbally attacked for upsetting the status quo?
In the past I have thought twice about sharing such horrific videos with friends, because there's an unspoken etiquette surrounding exposing people to such horror without their consent.
Some would say it isn't necessary to keep sharing these videos and images because people are already aware and it causes upset.
But that is the point of sharing the video!
If you had footage of someone beating a child, you would feel compelled to take action and show that to the police.
You would probably do the same if you had footage of someone beating a dog.
These horrific acts are unnecessary.
They cause pain and suffering and emotional trauma. They should not happen.
The abuse that animals are subjected to from birth to slaughter in the animal agriculture industry does not need to happen.
The same way fox-hunting does not need to happen, fur farms do not need to exist, and 90% or more of animal testing doesn't need to exist.
The only difference is that slaughterhouses are not illegal.
None of the abuses that take place in a slaughterhouse are ever prosecuted, despite the video evidence of workers punching animals, kicking animals, stubbing cigarettes out on animals and going out of their way to inflict even more unnecessary pain and suffering onto the animals.
I understand it's awful to watch.
It's a really negative vibe to have those videos or images show up on your screen.
You're trying to have a good day, and then some vegan tries to pull at your conscience by reminding you where your KFC and McDonald's comes from.
No animal lover wants to watch animals being abused, do they?
You can't bear to look at that crippled chicken, who can barely stand up because he/she has been fed steroids to plump him up to an abnormal size.
Why? Because it's abhorrent. And you are having chicken for dinner.
You can't bear to watch a calf crying as it has its throat slit by halal butchers.
Why? Because that calf has been stolen from its mother 48 hours after birth, who by the way carried that calf for nine months. Moreover, it's an "inhumane way" to kill an animal for meat. It's darn right evil.
You can't bear to see a pig having its teeth pulled out and tail cut off so it doesn't attack other pigs, or become the victim of an attack, in the overcrowded and filthy pen it shares.
Why? Because you can hear the screams and almost feel the pain. it's haunting. But bacon, though!
You can't bear to watch live chicks being lobbed into a blender, or more cost-effectively smashed into the concrete floor.
Why? Because chicks are cute, they've done nothing wrong, and it's evil to end a life so callously.
The exact same reasons you don't want to watch these videos are the exact reasons you should watch them.
This is what you are contributing to.
You too are responsible for this suffering.
Your money pays for this torture.
The vegan gets the blame for unwrapping you from the cotton wool of the supermarket floor and exposing you to the prison and slaughterhouse that predates your shrink-wrapped flesh.
Don't think for a minute I 'm saying that if you were stuck on a desert island with only animals to kill and eat that you shouldn't eat the animals.
This is about doing what is necessary.
All this suffering, however, is unnecessary.
If you knew a child was being sexually abused next door, would you keep quiet or go to the police?
If your neighbour offered you money to keep quiet, would you still go to the police?
I'm guessing you would go to the police.
Why? Because it's wrong to inflict pain and suffering onto another sentient being.
The crime is even greater when the person involved has no way of defending themselves.
Every being has the right to life, the right to be treated equally.
No man or woman deserves to be raped or beaten. Nor does any animal.
These Animals Need Help – So Why Should Vegans Stay Silent?
So why then do people expect vegans to hide the torture of defenceless animals?
Why do they expect vegans to stay silent and let voiceless sentient beings die in their billions behind an iron curtain of corporate exploitation?
If you think it's wrong for someone to stick up for a defenceless baby pig, to want that pig to stay with its mum and enjoy nature as you have had the chance to do so; if you think repeatedly raping a cow so you can steal the mil of its calf is acceptable; then I put it to you that you would have no problem turning a blind eye to the abuse of children.
Animals are like children, they look to us for protection. They are defenceless and vulnerable; they need our love and care.
There is no difference. Science tells us that animals feel parallel levels of anxiety, fear, and pain as humans do.
Animals are amazing, and that includes pigs, cows and chickens.
We are still learning about their social capabilities and ability to sense danger and experience emotions.
We are even using dogs to detect seizures in humans and other physiological problems.
We use animals to save our lives.
In a way, some of this does make some sense to me: Humans are conditioned to accept war and violence against each other from a young age. We are raised by politicians who excuse violence through a veil of policy and democracy.
So it really isn't that much of a stretch to then teach kids that is necessary to abuse and kill some animals and not others.
We teach kids that enslavement, torture and abuse of animals is okay, as long as we benefit.
We then contradict this with speciesism: telling kids that cute animals like puppies and kittens should never be eaten. We then look to countries in other parts of the world where they do eat the cute animals like cats and dogs and tell our children that this is evil.
How hypocritical and irresponsible is this moral compass?
Kids are still taught in school that they are omnivores, when any reputable biologist will tell you that by design humans are unspecialised frugivores.
Mis-education and manipulation of the truth regarding nutrition has misled generations of the past. But generations going forward have the ability to access truth. And the world is changing its eating habits accordingly.
Vegans expose truth. They should be commended for their actions. They should not be made to feel guilty in any way, or shy away from sharing the truth that the meat industry desperately tries to hide.
The meat industry deliberately keeps the media out of slaughter houses because they know that fewer people will eat meat when they witness such atrocities. It is no coincidence that veganism in the UK alone has risen from around 3% to 7% in just a few years.
This is because of a good few people standing up and not being afraid to go against the grain, against the food pyramid, against the status quo and narrative set by corporate advertising.
Of course, some people don't give a damn about the animals, and they are just into reaping the health benefits of being able to sustain a healthy weight, reverse health conditions and protect themselves against disease.
But even this aspect of eating a plant-based diet is something they probably wouldn't of realised had it not been for those people speaking out and revealing the truth about nutrition, environmental destruction and animal abuse.
So next time you see that a vegan has shared a video on Facebook exposing what happens in a slaughterhouse, instead of getting angry with the messenger, get angry with yourself.
Get angry with yourself for not being able to watch the videos and face the reality.
There really is only one reason you get angry with those preachy vegans, and that's because you know they are right.
There is no moral justification for this evil.
You are complicit with this cruelty.
I was complicit too.
You don't have to be, though. It is a choice.
This truth is a hard pill to swallow, especially when you realise your actions are causing pain and suffering on a daily basis.
Once you have taken a long, hard look in the mirror, get angry with the meat industry: the lobbyists and shareholders who prevent the truth surfacing for their own selfish gain.
Get angry with the government: those who pocket huge sums of tax off of animal agriculture and its sub-industries (particularly the fashion industry).
Get angry with the nobility who hunt animals for fun and "tradition".
All of these people are responsible for the perpetuation of this barbaric industry.
To turn a blind eye to the evidence of abuse to animals or children is cruel and heartless. To ask others to suppress that evidence is reprehensible. To fund the abuse and enjoy its spoils is unforgivable.
If you can't watch the videos in this post because they put you off your dinner, ask yourself why.
A true omnivore or carnivore would be salivating, not wincing.
You can't make up for the past, but you can make a better future.