I was put off protein shakes over a decade ago.
Like most young men, I was introduced to them through sports masters and gym rats. They told me that whey protein was an essential for gaining muscle and staying healthy.
I thought that drinking a protein shake post-workout and then going to the toilet seven times over the next few hours was normal. I thought constant flatulence was normal. I thought casein was a good ingredient.
Yes, I was unlearned and my health paid the cost. But hey, fast forward and here we all are, with the truth in our hands and better resources at our fingertips.
Nuzest in a Nutshell
Considering my unhealthy experience with protein shakes as a youngster, when I  learned of Nuzest, it was of great interest to me: Dairy free, gluten-free, GMO free, even soy free.
Turn the tub around and check the ingredients: no maltodextrin or other artificial sweeteners, no E numbers, additives or preservatives, and no flavors or colors.
It's clean, man; thus the name Clean, Lean, Protein.
It contains all nine essential amino acids. It's high in glutamine. It's low-carb (not that I'm bothered about that), and low-fat.
The Best Pea Protein On The Market?
Nuzest source their protein from a 6th generation family-owned company in Belgium, regarded as the world leader in pea protein isolation.
There are no chemical solvents, no fillers and artificial compounds used in the blending process. It is arguably the highest quality pea protein isolate on the market.
You see, there are a number of vegan protein powders out there, but most make use of chemical solvents to obtain a high protein content. Nuzest use a natural water-based isolation process.
There's no GMO (Genetically Modified Organisms) in the ingredients either. Some people aren't fussed about GMO, but others are acutely aware of the carcinogenic properties of GMO foods – so this is certainly comforting to know.
Nuzest Protein Quality & Content
Getting enough protein generally isn't an issue. If you eat a balanced diet of vegetables, fruits, legumes and nuts and seeds, then you will be getting enough protein and meeting all your essential amino acid requirements: how many people have you ever met in your lifetime who are protein deficient?
However, there are groups of people with higher protein needs:
Perhaps you lift weights or do a lot of cycling or running and feel that you want to optimize your protein intake for better muscle recovery.
Perhaps you work a job where occasionally you're forced to miss lunch.
Perhaps you aren't well and looking for a healthy protein option to supplement your diet while you recover.
Perhaps you are over the age of 60 and want to ensure that you're maximizing your essential amino acid intake to avoid frailty and improve healing ability in the unfortunate event that you might obtain an injury.
A note on the last category: Dr Valter Longo, the world's leading biogerontologist (studies aging) and cell biologist, recommends that people over the age of 65 pay close attention to their protein intake for the aforementioned reasons.
Well, in any of these cases you'll be pleased to know that Nuzest has a protein content of nearly 90%, which is over four times greater than that of animal protein sources such as meat, chicken, or fish.
The protein in the Nuzest is called Pisane, which is one of, if not the, highest quality pea protein on the market today. Most pea protein has a protein content of 80 to 85%, but Nuzest contains 88-90%.
If you didn't know, protein is present in crucial functions in virtually every physiological and metabolic process in the body. Proteins are comprised of monomer units made up from up to 20 amino acids, of which nine are regarded as essential because they cannot be synthesized in the body and must be ingested in the diet.
The 9 essential amino acids are as follows:
Histidine
isoleucine
Leucine
Valine
Lysine
Methionine
Phenylalanine
Threonine
Tryptophan
There are other amino acids called 'conditionally essential amino acids'. These are required in times of growth, intense activity, stress and illness. Whereas others are considered non-essential because they can be synthesized in the body.
The good news is you will find pretty much all of these in Nuzest Clean Lean Protein, too.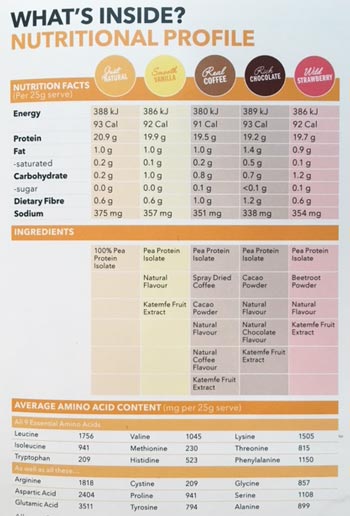 High Absorption Rate
Nuzest protein is highly absorbable. If you ever taken a protein supplement for a given period of time, you will know about bloating and having an uncomfortable stomach.
Man, I recall the days when I used to go to the gym and have a protein shake afterwards, then get ready to go out to a club or a DJ gig and just feel so uncomfortable in my stomach; waiting for this sticky blubber to digest through my system.
"You look like you've been in the gym, man". "Yea, but do you know where the toilet is?"
The first time I tried Nuzest's Clean, Lean Protein I was at the very least expecting to have some sort of flatulence, not least because I hadn't had a protein shake in a long time.
Nothing. Nada. I didn't have any adverse stomach effects or flatulence. Of course, don't expect to eat a high protein meal, and then have a Nuzest shake and expect no farts.
If you overload on protein your body just gets rid of it. The good news is that plant protein doesn't impact the liver the same way animal protein does. It also doesn't cause the same inflammatory response.
Digging down into the literature, I genuinely believe that their statement regarding digestibility is correct. "Nuzest has a very fine particle size and digestibility rating of 98%. This means it's light on the stomach and easy to digest and absorb".
This is a really important factor  for those with sensitive stomachs.
Nuzest also say that the isolation process removes lectins and phytic acid, which can interfere with digestion and cause flatulence. However, I think it's important to not be scared of lectins and understand why eating beans, lentils and whole grains is super important for your immunity and health. See this video for information. Just make sure you cook kidney beans!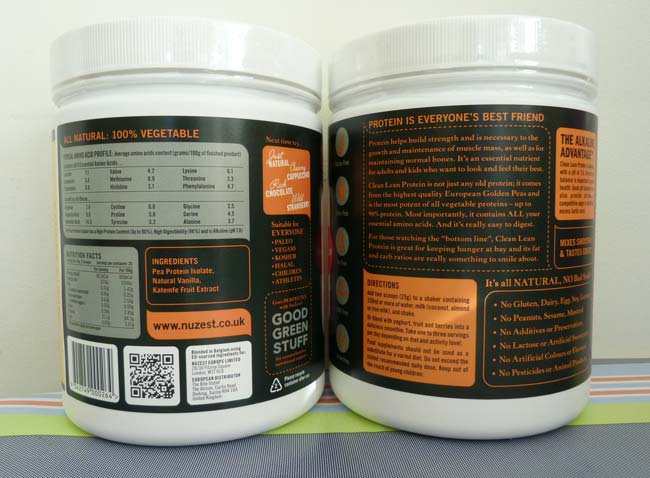 Alkaline pH 7.8
This is something that people rarely think about, although generally people know that they should try to keep a fairly alkaline diet and not overly eat acidic foods.
Nuzest is one of the few alkaline proteins available. Because it is plant-based and contains no naturally processed ingredients, it maintains a balanced pH (7.8), which contributes to good health.
Allergen Safety
75% of the world's population suffer from lactose intolerance, many people suffer from gluten intolerance, and some with soy intolerance. And then there are nut allergies too!
So understandably there's a huge concern around cross contamination between food ingredients.
We have all heard the dreadful stories of people with serious allergens having purchased food that they believed to be free of the food ingredient that they are allergic to, only to suffer severe pain and in some cases death due to cross-contamination.
This usually happens because what is claimed to be a non-dairy/non-nut containing food is made in the same factory as a dairy/nut product. Companies are required to state this on their products, but mistakes do get made.
Nuzest, however, have a stringent safety procedure in which all raw ingredients are guaranteed to be free of allergens. After the product is finished blending, it is independently tested in a laboratory for gluten, soy, dairy and safe microbial levels.
Sustainability – Environmentally Friendly
Vegan or not, the large majority of people are concerned about the environment and interested in ways in which they can lower their carbon footprint.
The good news about peas is that they use less water and require less than 20% of the land needed to produce the same amount of protein from whey or beef.
Range of Flavors
So now we done with the technical stuff, I guess you're wondering what flavors to expect.
There's Smooth Vanilla, Wild Strawberry, Creamy Cappuccino, Rich Chocolate or just Plain Natural. Although these sound quite extravagant, remember that there are no artificial colours, preservatives, sweeteners or fillers.
I have tried them all. I have to say my favorites are Rich Chocolate and Wild Strawberry. I am also partial to Smooth Vanilla.
I passed on Creamy Cappuccino, as I gave up drinking coffee and therefore I'm trying to stay away from anything that tastes like a cappuccino – because it might tempt me back into my caffeine addiction.
But how does it taste?
Pretty darn good, actually.It's not chalky, it's not sickly sweet, it blends very well and isn't lumpy.
If you're using a banana or other fruit additions, I recommend more than 250ml of water per 2 scoops; otherwise it's a bit thick for me, particularly with banana.
How to Make 'Clean Lean Protein'
As with any protein shake, it's really easy to make. You simply add two scoops to a shaker or blender containing 250 ml or more of water, coconut water, or your favorite non-dairy milk, and shake it up.
I usually add in a banana and some flaxseed. I'd recommend adding in Chia seeds if you like, perhaps some greens or berries.
This leads me nicely onto the next section too. I add the Good Green Stuff to my smoothies sometimes, and, when added to the Rich Chocolate, it gives it a subtle minty flavor. Yum!
The 'Good Green Stuff'
I have to say I am probably more excited about the Good Green Stuff than I am about the protein shake, although I am very impressed with that too.
Why?
Because any doctor, nutritionist, dietician or health expert worth their title will tell you that we do not get enough green vegetables in our diet, and we do not get enough essential nutrients and phytochemicals, full stop.
Micronutrients and phytochemicals are essential for the prevention of infection and disease, and for fighting off illness like colds and flus.
The Good Green Stuff is a super blend of essential nutrients from plant foods, plant extracts, coQ10, bifido, and lacto bacteria. All 100% natural and vegan friendly.
Consider this for a moment:
Here in the UK, a major survey of dietary habits of 4-18 year-olds showed that the most commonly consumed foods are white bread, savory snacks, chips, biscuits, potatoes and chocolate confectionery.
Additionally, it was found that boys, by weight, consume nearly 4 times as many biscuits as leafy green vegetables, while girls eat, by weight, more than four times as much sweets and chocolate than leafy green vegetables.
The same survey also revealed that 91% of girls aged 4-6 years failed to reach the RNI for Zinc; while 90% of girls aged 15-18 years did not reach the RNI For magnesium, 73% did not reach the RNI for zinc, and 53% did not reach the RNI for folic acid.
The bottom line is that we are not getting enough of the essential nutrients we need, particularly in the case of children and the elderly, who are likely to be deficient in vitamin D, magnesium, vitamin K and copper.
Good Green Stuff supports all 12 body systems, including energy production, immune function, bone health, digestion and cognition. It contains nutrient rich fruits, vegetables, berries, herbs and extracts and 20+ added vitamins and minerals.
I have a daughter of four years old. I consider myself well read on nutrition and continue to educate myself on a daily basis as to how I can make improvements to the diet of my family.
So when the Good Green Stuff dropped on the mat, I was extremely pleased to be able to give this to my daughter as a dietary top-up.
We all know that young children can be very fussy about what they eat, and they can be easily distracted when eating and fail to finish a meal, which leaves us worrying that they are not getting enough of a particular nutrient. This is not exclusive to any person eating any particular type of diet, be it a meat and dairy-based diet or a plant-based diet.
The Good Green Stuff has a ridiculous amount of goodness in it.
However, I want to say straight off the bat that supplementation should not be a replacement for whole foods. We know for example that isolating a particular nutrient or phytochemical and taking it in pill form is, unless you are deficient in that nutrient, likely to be ineffective in the medium and long term.
One particular study showed that supplements are largely ineffective.
That being said, GGS is a blends of natural foods and vitamins and minerals; so it's more of a natural, complete blend than an isolated vitamin C, D or calcium supplement, for example.
The point is, we should always advocate that the best way to get our essential nutrients is by eating whole foods.
And we should also advocate that people reduce their intake of meat and dairy products and processed foods and increase their intake of exceptionally nutrient-dense plant foods.
GGS can help us achieve this, with its natural blend of a wide variety of organic, plant, algal and fungal foods.
I'm not going to reel off all the ingredients, but here's an overview of what to expect:
 Organic spirulina
Red marine algae
Flaxseed
Organic wheatgrass leaf
Organic chlorella
Organic barley leaf
Acerola fruit
Broccoli sprout
Beet root
Ginger root
Spinach
Whole kelp
Shiitake mushroom
Goji berry
Panax ginseng
Rosehip
Globe artichoke leaf
Ashwagandha root
Turmeric root
Rhodiola Rosea root
Dandelion
Citrus bioflavonoids
It's impressive stuff (pardon the pun). And if I can get my four year old daughter eating more plant-derived nutrients, I'm a happy daddy.
Plus it's an easy sell – because I can hide it inside a protein shake that tastes good and contains all the essential amino acids. It's also great for her busy mum, too.
Again, don't get me wrong: I am in no way saying that this is a replacement for eating cress, spinach, kale, cabbage, cucumber and all the other wonderful vegetables, be they green, red or yellow. But what I am saying is that it is a very easy way to obtain a top up of vital micronutrients and phytochemicals.
Let's have a quick look at the bioavailable vitamins and minerals inside the green mix:
Vitamin A
vitamin D
Vitamin E
Vitamin K2
Vitamin C
Vitamin B1
Vitamin B2
Vitamin B3
Pantothenic acid
Vitamin B6
Folate
Vitamin B12
Biotin
Potassium
Calcium
Magnesium
Zinc
Copper
Manganese
Silica
Selenium
Chromium
Iodine
Good for Your Gut, Too
Healthy gut, healthy body, as the saying goes.
Each 10g serving of the Good Green Stuff provides 6 billion colony forming units of microbiotic bacteria. So if you're struggling with issues relating to an unhealthy gut biome, this formulation is a natural way to improve your body's microbiologic environment.
Like the Clean Lean Protein, GGS is also gluten-free, dairy free, soy free, and GMO free.
The total amount of plant extracts in each 10 g serving amounts to 2.5 g by weight;  that's 25% of the formulation. This provides a very nutrient-dense intake compared with a normal diet, or one supplemented with concentrated botanicals.
How Much & Where to Buy?
You can buy Nuzest in the US or the UK/Europe. All you have to do is hop on over to the website (see the link below).
As you will find out with a quick Google search, you can get whey protein, soy protein and pea protein dirt cheap on the Internet. But as you'll also know, you get what you pay for.
If you want to drink inflammatory dairy products that raise levels of Insulin Growth Factor 1 (IGF1), along with carcinogenic sweeteners and additives and all the rest of the crap they put in the blend, go for the cheapest there is.
On the flip-side, if you want to be absolutely sure that your protein shake contains nothing but natural ingredients, you have to pay a bit more.
So it costs a bit more, but here's a tip to keep the cost down: My advice is not to use two scoops as recommended on the Nuzest instructions.
I don't think you need that much; certainly not if your diet is already fairly plant-based protein heavy. I certainly don't need that much and I have no problem maintaining lean muscle.
Use one scoop, and have one shake every other day. Nuzest has a good absorption profile and a very high protein content, so it's pointless having more than you need because your body will only work to get rid of it anyway.
If you're a serious weightlifter and you're looking to stack on muscle all costs, maybe go for 1 1/2 scoops.
Either way, you'll save yourself money and make the tub last longer.
A 7.9 Oz tub will cost you $23.99, and a 17.6 Oz tub will cost you $44.99,  you can also get bigger tubs and packs of sachets.
If you're in the UK, a 500g  tub will cost you £29.99,  whereas a liter tub will cost you £49.99.
The Good Green Stuff isn't available in the US but they do have the Good Green Snack, and a daily nutritional drink option called Vita Kick.
In the UK a 300g tub of the Good Green Stuff costs £49.99. Or go for a 600g tub for £89.99
While you're over on the website, check out some of the athletes using Nuzest. There's good reason so many athletes are using plant-based supplements these days: Less inflammation, faster recovery, lower injury rate, less bloating and all-round better health.
———————————-
Disclaimer: As a plant-based nutrition influencer, Nuzest reached out and asked me if I would like to try their range of protein shakes and Good Green Stuff nutritional supplement and share my thoughts with my readers.
I accepted with the same condition statement I provide to any company that wants to send me a product for review: If I don't think it's useful, I won't review it. And if I do like it and I do review it, I will judge its potential impact on health based on the latest science.