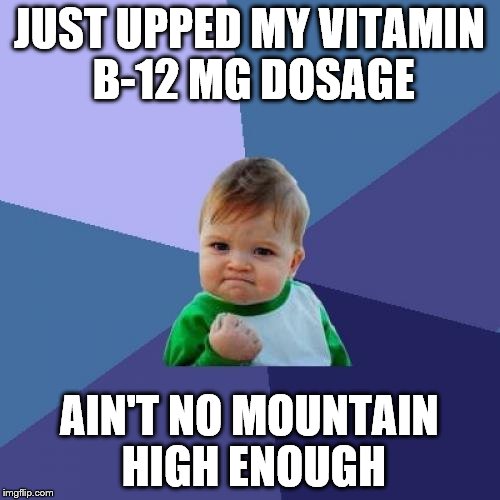 Vitamin B12 is a hot issue when people first turn to the vegan lifestyle, and with good reason.
When I switched to a plant-based diet, I only had a vague idea of what B12 was and what it was used by our bodies for. I just knew B vitamins were good for us!
Unfortunately, this ignorance is prevalent amongst many people.
There's a lot of misinformation online regarding what B12 is, where it comes from and how effective plant-based sources are.
Vegans are generally unaware that the bioavailability of B12 from sources like spirulina is virtually non-existed, and that supplementation is advised.
Conversely, meat eaters are generally unaware that their key B12 source isn't as natural as they are led to believe, and that they too may need to supplement – and certainly eat fortified foods – due to poor absorption or simply not getting enough.
So, let's start from the beginning and break down the B12 drama once and for all.
Vitamin B12 & Deficiency
B12 is a water-soluble vitamin that has a key role in the normal functioning of the brain and nervous system via the synthesis of myelin, and the formation of red blood cells. It is one of eight B vitamins. (Source: Wikipedia)
B12 is a key vitamin for mammals, affecting the formation of blood, amino and fatty acid metabolism and DNA regulation and synthesis, amongst others.
Without B12 in our diets we humans can become anaemic.
This condition essentially causes the body to produce blood cells that are too large and which are inefficient at carrying oxygen and the other great jobs the little guys do to keep us alive.
The upshot of this is the B12 deficient human can experience extreme fatigue, low energy, headaches and even symptoms of dementia, amongst others.
This study shows a high level of B12 deficiency amongst vegans, so clearly the correct information is not reaching the broader vegan community.
How is B12 Made?
B12 is not produced by any large organism. There's a common myth that it is produced by animals. It's not.
B12 is made by anaerobic microorganisms (ie. bacteria that do not require oxygen to live). Anaerobic bacteria are common in the gastrointestinal tract of animals; so when you eat meat you can get B12.
Animals can process plant matter and obtain B12 through digestion. But humans are single stomached, so we cannot ferment plant matter in this way and, for this reason, must seek another source of B12.
Where Did Humans Historically Get B12 From?
Our primate cousins, like the gorilla, obtain B12 from bacteria present in the wild – living on plants, in the water they drink, and from the consumption of soil or their faecal matter.
However, when primates are in captivity they often develop B12 deficiency. Go figure.
Humans historically got B12 from eating vegetables, fruits and drinking fresh water from springs and streams, or by farming and then eating without washing their hands. Since we no longer do these things, "natural" plant based sources of Vitamin B-12 have dropped out of modern life.
In the modern day, our produce is heavily sanitized and chemically cleaned to meet retail standards, and subsequently the B12 (bacteria) removed.
The fact is, B12 is abundant in nature. If you go outside in your garden and touch a drop of rain water, or touch the soil then touch your tongue, you'll most likely have just consumed some B12.
You could also eat some of your own poop. But don't do that, please!
Plant-Based Sources of B12 & Fortified Foods
Meat eaters get B12 from eating meat, because the bacteria is formed through the digestion of plant matter and is then present in meat.
However, even meat is fortified with B12 these days, as it is unnaturally raised and animals become deficient. That said, cows and pigs tend to eat their own poop (accidentally mostly,) so they tend to always retain some B12.
1. Edible Algaes
Edible algaes contain B12, but in general also contain B12 analogues that block active B12. Because of this, it was previously thought that these sources were all inadequate. Until now….
Dried green laver (Enteromorphasp.) and purple laver (Porphyra sp.) are the most widely consumed edible algae, and they contain substantial amounts of Vitamin B12 (approximately 63.6 μg/100 g dry weight and 32.3 μg/100 g dry weight, respectively)
However, this study revealed that the best edible algae is dried purple laver, (nori) which is formed into a sheet and dried. Consumption of approximately 4 g of dried purple laver (Vitamin B12 content: 77.6 μg /100 g dry weight) supplies the RDA of 2.4 μg/day.
And, an even newer study shows that Chorella is a good source of vitamin B12 and can mitigate deficiency.

2. Meridian Yeast Extract & Marmite
Meridian Yeast extract  on one slice of toast provides nearly all your RDA of B12 (and I'm never, ever going to eat one slice of toast on its own). Then again, slather on marmite over four slices and it's the same story. Marmite provides 40 percent of your recommended daily allowance with a single serving.
The reason is of course the fermentation of the yeast involved in production of these foodstuffs.
3. Other Fortified Foods
You are probably consuming B12 without knowing it too, as so many foods are fortified these days. Cereals, soya milk, snack bars and more.
I found a hemp milk fortified with B12 which doesn't curdle in my coffee like soy milk and is pretty good with porridge.
It's great that science is uncovering natural B12 sources like the edible algae listed above, but the presence of B12 in common plant based foods that make up the bulk of the vegan diet is still low. Fortunately though, we are aided by three factors.
1. the amount of B12 we actually need to remain healthy is incredibly low: 2.4 mcg for an adult, per day, is all that is required.
2. the human liver is incredibly efficient at storing essential nutrients. If you are moving onto a vegan diet, you probably have enough B12 stored up in your body from your previous lifestyle to last half a decade- however, and I cannot stress this enough, this store will rapidly deplete if you become B12 deficient.
3. there are many different sources for the vegan to obtain B12 through common foods.
The fact is: we can get B12 in our diets with very minimal fuss.
Which B12 Supplement Should I Take?
Cyano-cobalamin Vs Methyl-cobalamin
Most supplements consist of cyano-cobalamin, which contains one molecule of cyanide for every molecule of B12. Don't t buy his cheap form.
Only take methyl-cobalamin, which is the active form that does not require conversion in the liver. Take it sublingually (under the tongue), not orally (swallowing). This way all of it gets gets absorbed directly into your blood stream.
Our guts can only absorb B12 in the terminal ileum, which is a tiny portion of our small intestine, so any gut problem like diarrhea can result in limited absorption. In fact, any gastric problem can limit absorption.
A quick note here for meat eaters and vegans: if your gut bacteria balance is in a bad state due to poor diet, your B12 absorption may be very low.
Can You Overdoes on B12?
There is no known toxicity level for B12, so don't worry about overdosing.
The daily RDA is measured in millionths of a gram (2.4 mcg), but you need to take a lot more to achieve absorption of this amount. B12 usually comes in 500 or 1000 mcg form, and it's wise to take 1000 mcg of methyl-cobalamin on a daily basis.
Some purists are against supplementation, and indeed emerging research suggests many types of supplements are unnecessary and could have adverse health effects.
If you don't want to take a supplement and are going down the algae and fortified foods route,  you should probably get your levels tested now and again to check you are maintaining healthy levels.
In Conclusion: Being Vegan & Getting Enough B12
Like we've discussed, the bacteria responsible for B12 production live in soil, in water, and yes, in human faecal matter. I'm not suggesting we start eating that though. Unless, like, that's your thing. I'm not judging you. Still, that's pretty gross, and you should stop.
Prior to the industrialised production of vegetables, a plant based diet (which the vast majority of people followed out of economic necessity if not choice) would incorporate soil and natural water containing bacteria.
Again, I'm not advocating we eat soil and drink rain water as a matter of course, particularly in the highly polluted world we live in.
The point is, for better or worse, we have a civilisation that washes vegetables in chlorine before they are put out in the supermarket, and it's common for us to wash them again when we get home before cooking.
The bacteria that would have been present on the plants we eat have been scourged.
Sure, we can buy organic, fresh from the ground, and eat them unwashed, and I really have no opinion on that other than I'm choosing not to out of concern for increasing the presence of pollutants in my body more than necessary.
It is clear that a vegan diet can be deficient in B12 if we don't pay attention to it. Some people will have a cupboard full of Chorella and Dried green and purple laver, plus a bunch of fermented and fortified foods.
But the majority of people are lazy with their diet, be it because of a hectic schedule or simply not being that bothered. And for vegans that isn't an option when it comes to B12.
I'll leave the last word to an actual doctor.
Vitamin B12 is made by neither animals nor plants, but by microbes.

Thankfully, in our sanitized world there are safe, cheap, convenient sources. Vitamin B12 deficiency is common in vegans who don't eat B12 fortified foods or take B12 supplements and can result in paralysis, myelopathy, psychosis, or atherosclerosis.

It is imperative that those eating plant-based diets include B12-fortified foods in their diet or take B12 supplements, especially pregnant or nursing women. Testing is not necessary, but supplementing is—it may even increase one's lifespan.

The recommended intake is 4-7 micrograms a day (but to get that much in daily or weekly supplements you have to take much more). Raw food diets are no exception to this rule. Omnivores under age 50 are rarely deficient in vitamin B12 (though may be deficient in other nutrients).

. -Dr. Michael Greger M.D.
It's not important whether you choose to up your intake of Meridian Yeast Extract or pop a B12 tab a couple of times per week, so long as you get it. Like with everything else health-related, it's our responsibility to investigate, ask questions and provide answers.