Juicing, as the name implies, is the process of extracting the juice from fresh vegetables or fruits.
The process allows you to eat a lot of vegetables and fruits, in one go, in liquid form.
As you may have seen on the news, in magazines, or from the popular Netflix documentary Fat, Sick & Nearly Dead, it's a super-healthy hobby, one that can change your life rapidly.
Well, it's time to stop thinking about doing it and get started instead.
In this post I'll walk you through everything you need to know about juicing and juicers:
The benefits, the types of juicer available, what key features to look for, and give you 17 recommendations to choose from, so you can find a juicer that suits your needs and budget.
Grab a hot drink, and let's get started…
The Benefits of Juicing
The health benefits to the body are huge, because you are able to massively increase your nutrient intake.
Often, the number of vegetables and fruits we consume in a week is limited, simply because we don't cook them for every meal and sometimes prefer to eat out.
With juicing, you can drink instead of eating, so consuming a wider variety of vegetables or fruit becomes more convenient and possible.
Juicing allows you to consume single, groups of, or mixed vegetables or fruits at in high quantity. It's great for dieting,  boosting your immune system response and for all-round health.
Since juicing allows you to consume a variety of vegetables and fruits every day, nutrient absorption is higher and your body gets loads more essential nutrients that it can use to protect you from a wide range of diseases.
Furthermore, juicing also helps in maintaining good, healthy skin, detoxifying your body, and lowering blood sugar level.
The 3 Different Types of Juicer
So, you have now decided to give juicing a go, but here comes the dilemma: picking the best juicer machine out of the many options available in the market.
Investing in a good juicer machine is essential if you are serious about this move and juicing regularly.
Not all juicers are the same, and not all that say I'm the 'best juicer machine' is necessarily the case. You need to find a juicer that is right for your personal needs.
In general, there are three main types of juicers:
1. Centrifugal Juicers
One of the big three types is centrifugal juicer. Using this juicer, you feed the fruit or vegetable into the funnel, and a spinning blade in the cutting disk will shred it into pieces.
The fast spinning motion of the blade forces the juice from coming out of the fruit or vegetable, separating it from the pulp.
Many centrifugal juicers have the cutting disk and pulp catcher in the same area, which means the latter cannot hold a lot of pulp.
As it cannot make large batches of juice, a centrifugal juicer is excellent for those who like to juice for themselves.
If you have no time to pre-cut your fruits and vegetables and can put up with noise, a centrifugal juicer will work just fine.
Many modern centrifugal juicers nowadays have a separate pulp container.
2. Masticating Juicers
Also known as slow juicers, masticating juicers extract juice with the help of a slow-rotating auger that squashes produce against a stainless steel mesh screen.
Because of the slow speed, not much oxidation happens, which is good if you are not going to consume the juice immediately.
The juice then flows through the screen and goes out into a container. The pulp is then ejected into another.
Compared to centrifugal juicers, slow ones are quieter but need more time to produce juice. They are also more expensive and bulky and produce a more pulpy juice.
3. Citrus Juicers
A citrus juicer is one that is built for juicing citrus fruits like lemon, orange, and grapefruit.
If you are more into vegetables and are looking for the best juicer for greens, citrus juicers are not your best bet.
Depending on your need, you can choose from the three types of citrus juicer:
Manual juicer: This juicer is cheap but takes a lot of effort. You manually squeeze the fruit against the reamer; the juice will then flow through the strainer into a container.
Electric citrus juicer: This is similar to the manual, but since it has a motor, you don't have to manually squeeze the fruit to force the juice to come out. Juicing is a lot less messy compared to the manual type.
Manual press juicer: A manual press juicer is mainly used for smaller citrus fruits such as lime or lemon. It looks like a small tong but has an area where the fruit is placed, squeezed, and strained.
8 Key Features to Look for in a Juicer
Before placing your order for your first juicer, you need to consider some key things.
Not only will this list give you an idea of the best juicer for your kitchen, but it will also save you money and effort.
So before you give your hard-earned money to those manufacturers, read on first.
1. Pulp Ejection System
No matter what type it is, every juicer has a pulp ejection system.
This system refers to how the pulp is expelled once the juice is separated.
Although there are many juicers advertised as having pulp ejection systems, the reality is every juicer has it, only they are not the same.
Although it is not unfavorable to purchase a juicer by just considering its pulp ejection system, remember to look for others priced more affordably before falling for some marketing tactics.
Also, it is worth thinking about your personal needs and preferences before going for a product.
2. Dishwasher Safe & Easily Cleaned
Juicing is an excellent way to get micronutrients from fruits and vegetables.
As mentioned, you get the juice by means of squeezing, slicing, chopping, and cutting the produce. This means that tiny little pieces can be stuck in the different parts of the juicer.
For easy cleaning, you should be able to access the important parts of the juicer, especially those that come in contact directly with the produce such as the auger and filter, or better yet, the parts of the juicer should be dishwasher safe.
This is important to prevent a build-up of leftover produce particles, which if not cleaned, can develop into molds and can progress as a sanitation issue.
3. Multiple Speeds
Naturally, you want to get the most out of your juicing habit and try different types of produce, even nuts.
Adjustable speeds give you greater control over the consistency of your juice. If you plan to make a variety of juicing recipes, take note if the speed of the juicer is adjustable.
4. Feeder Tube Size
When juicing, your produce will be inserted into the feeder tube. The amount of fruit or vegetable you can add and make juice out of it is primarily dependent on the size of your feed tube.
If you plan to make juice only for yourself, you can opt for a juicer with a smaller feeder tube.
Feeder tubes can also be used to press down the produce to aid in the grinding or chopping process.
5. Juice Collector
Another feature that affects the level of the amount of juice you can produce is the juice collector.  Of course, the larger the juice collector, the greater the amount of juice it can hold.
Some juicers have built-in juice collector, while others have an outlet that lets you use any container for your juice.
6. Noise Level
The noise level of the juicer is also a feature to consider, especially if you live with your family or other people.
Centrifugal types of juicers tend to be noisier than masticating ones, so if you are living alone and doesn't mind the noise, you can choose a more affordable centrifugal juicer; otherwise, a masticating juicer is more suitable.
7. Ease of Use
If you are just new to the juicing lifestyle and are not sure whether to pursue it as a habit or not, getting a juicer that is easy to operate is ideal. It is always more convenient to upgrade something later rather than purchasing a complex machine only to find out such lifestyle doesn't suit you.
8. Warranty
Whether it's a dishwasher or juicer, warranty is always a consideration. Warranty is proof that the manufacturer believes in the quality of the product and allows you some level of financial protection in case the appliance breaks.
When choosing a juicer, check the warranty on the machine. While it is common to have a shorter warranty for smaller appliances, a longer warranty is better.
Choosing the Best Juicer Machine for You
With the variety of juicers available in the market and the endless considerations to make, it can be a challenging feat to weed out some and pick the best.
Don't worry, I have compiled the most in-demand and best juicers and listed their features for your easy reference.
Whether you're looking for the best juicer for greens or fruits, this list can lend a hand.
MASTICATING JUICERS
1. Aicok Juicer – Slow Juice Extractor
As a masticating juicer, the Aicok Juice Extractor has an auger that spins at 80 rpm, preserving the enzymes and nutrients from the produce and minimizing oxidation and heat build-up.
This juicer also provides higher juice yield with a richer and more flavorful taste.
Running quietly at less than 60-decibel sound level, the Aicok is heavy-duty and has dishwasher-safe parts that are easy to operate and clean.
Furthermore, it can be used to extract juice from various fruits and vegetables, such as carrots, ginger, celery, and apples.
Product details:
Weight: 10.01 pounds
Material: Plastic
Price: $99.59
2. Omega J8005 Nutrition Center
Although primarily a juicer, this all-in-one machine also functions as a pasta extruder, food processor, grinder, and homogenizer.
It features an automatic pulp-ejection function allowing for continuous juicing and high juice yield.
This juicer also has a dual-stage juicing system that extracts the maximum amount of juice from the produce and processes at a slow speed of 80 rpm to prevent oxidation.
Product details:
Weight: 17.64 pounds
Material: Metal base
Price: $229.99
=> Click to view the Omega J8005
3. Omega J8006 Nutrition Center: Quiet Dual-Stage
The Omega J8006 is a slow juicer that processes at 80 rpm, protecting the healthy enzymes in the juice and preventing oxidation – the reason why the juice this juicer makes can be stored for up to 72 hours without degradation.
The auger is of high-quality plastic that is 8x stronger than others and with gear reduction equivalent to a 2HP motor.
It also boasts of a dual stage juice extraction, so you're assured that you get the maximum amount from fruits and vegetables.
Product details:
Weight: 17.75 pounds
Material: Metal base
Price: $288.01
=> Click to view the Omega J8006
4. SKG Wide Chute Anti-Oxidation: Slow Masticating Juicer
Compared to centrifugal juicers, the SKG Slow Masticating Juicer has a slow speed of 60 rpm allowing only minimal oxidation, preserving nutrients and taste, and taking out richer and more nutritious juice.
To further prevent oxidation, a sealed space to hold the juice is provided.
The juicer also features a wide chute to accommodate large items and greatly reduce preparation time and a sturdy handle for convenient moving.
Product details:
Weight: 22.5 pounds
Material:
Price: $297.00
5. Tribest GSE-5000 Greenstar Elite Cold Press
Made of stainless steel, this juicer boasts a bio-ceramic magnetic twin gear takes the freshest and purest juices out by preserving vitamins and enzymes and preventing degradation; thus, providing a longer shelf-life for your juice.
To allow you to adjust pressure, the machine is equipped with a pressure adjustment mechanism, thereby preventing clogs.
For cleaning purposes, this juicer is very easy to assemble and includes brushing and scraping tools in the box.
Product details:
Weight: 24 pounds
Material: Stainless Steel
Price: $540.00
6. HUROM HZ Slow Juicer
The Hurom HZ Slow Juicer boasts a slow squeeze technology with a speed of just 43 rpm to imitate the squeezing ability of the hands.
Such technology also makes it possible to squeeze every drop of juice from the produce.
With this juicer, you can make fresh and unprocessed juice.
Unlike other juicers, the Hurom HZ Slow Juicer features a near-silent motor that allows you to enjoy the process without being concerned by noise.
Product details:
Weight: 11.9 pounds
Material: Stainless Steel
Price: $599.00
7. Super Angel DELUXE Model
The Super Angel Deluxe Model features an anti-jamming system that adjusts the speed of its speed when overloading and automatically reverses when jamming.
It also has an automatic cooling system if overheating within the machine is detected.
With this juicer, you can be at ease that you have only the freshest and most nutritious juice as it crushes and grinds produce into very fine particles and presses them slowly to keep the enzymes intact and for longer shelf life.
Inside the box are a glass Pyrex jar for juice collection and premium brush for cleaning.
Product details:
Weight: 28.8 pounds
Material: Stainless Steel
Price: $1,642.00
8. Norwalk Model 290 Juicer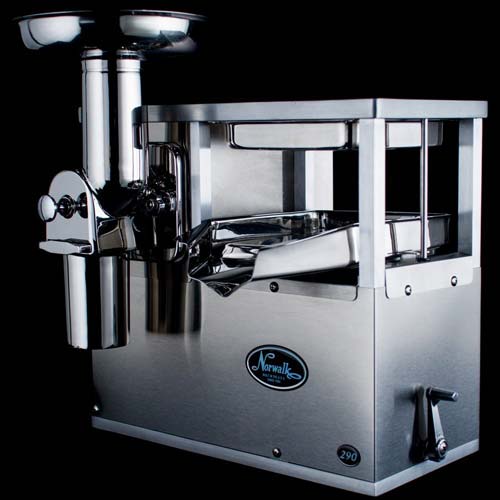 As the company's newest model, the Norwalk Model 290 Juicer features a vortex cutter that cuts foods' fiber down to the cellular level and a hydraulic press that fully extracts nutrients.
If you are looking for the best juicer for greens and fruits, this juicer is a top-notch.
It also comes with filter cloths, grids, and bags. Further, the juicer's removable parts make it easier to clean them.
Product details:
Weight: 61 pounds
Material: Stainless Steel
Price: $2,595.00
CENTRIFUGAL JUICERS
9. Breville Juice Fountain Elite 1000-Watt (800JEXL)
With this Breville juicer's 1000-watt motor equipped with dual speed control, it doesn't matter whether you're juicing soft or hard fruits and vegetables.
Its extra-wide chute also makes it possible to put produce into the machine with little to no cutting needed.
The cutting blade is reinforced with titanium for longer lasting sharpness.
It also features a large capacity pulp container and has a safety locking arm that prevents it from operating without the cover being locked.
And if those features aren't enough yet, the product also comes with a brush for easy cleaning.
Product details:
Weight: 17.2 pounds
Material: Stainless Steel
Price: $259.99
10. Black & Decker 400-Watt Fruit & Veg Juice Extractor (JE2200B)
The 400-watt motor and stainless steel cutter and strainer of this juicer exert a powerful force that makes it possible to extract juice even from tough produce in seconds.
Additionally, the motor is controlled by a dual safety lock mechanism to ensure peace of mind.
The pulp collector can accommodate up to 28 ounces of pulp, and the provided juice collector can capture up to 300 milliliters of juice- perfect for your and your buddy's juicing needs.
All parts of the juicer are removable and dishwasher safe.
Product details:
Weight: 5.55 pounds
Material: Plastic
Price: $40.00
=> Click to see the Black & Decker
11. Hamilton Beach – Big Mouth 800 Watt Juice Extractor (67601A )
With its stainless steel micro-mesh cutter and strainer, the Hamilton Beach 67601A is a powerful juice extractor that can turn dense produce into a smooth and fresh juice in seconds, perfect for someone who's always on-the-go.
It has an extra-wide feed chute that allows you to fit large fruits and vegetables even without pre-cutting them.
Latches are in place to lock the juicer securely in place.
All the parts of the Hamilton Beach are dishwasher safe, and the juicer comes with a premium cleaning brush.
Further, it is perfect for new enthusiasts because juicing tips and recipes are included in the box.
Product details:
Weight: 9.75 pounds
Material: Plastic
Price: $49.49
=> Click to see the Hamilton Beach
12. Breville Two-Speed Juice Fountain Plus (JE95XL)
Another Breville product is the JE95XL Two-Speed Juice Fountain Plus that's equipped with a mechanism that automatically tunes to the juicing load, thereby maximizing the extraction of juice.
It has a patented micro-mesh filter that spins at 14,000 rpm, extracting juice at lightning speed.
Additional great features are the wide feed chute that allows you to put whole fruits and vegetables and the two-speed electronic controls: one for slow juicing intended for soft produce and another for high speed juicing for harder produce.
All parts of this juice extractor except the motor are dishwasher-safe.
Product details:
Weight: 12 pounds
Material: Plastic
Price: $85.00
13. Breville Juice Fountain Plus 850-Watt Juice Extractor (JE98XL)
With a 3-inch feeder chute, the Breville JE98XL Juice Extractor can accommodate large produce and can create up to 8 ounces of juice in just five seconds.
Its cutting disc made of stainless steel and micro mesh filter extracts more juice, minerals, and vitamins from the produce.
This juicer boasts of a dual-speed motor, safety locking arm, and overload protection mechanism. Further, it comes with a filter basket, 1-liter juice jug, and cleaning brush.
Product details:
Weight: 12 pounds
Material: Plastic
Price: $119.99
14. Cuisinart CJE-1000 Die-Cast Juice Extractor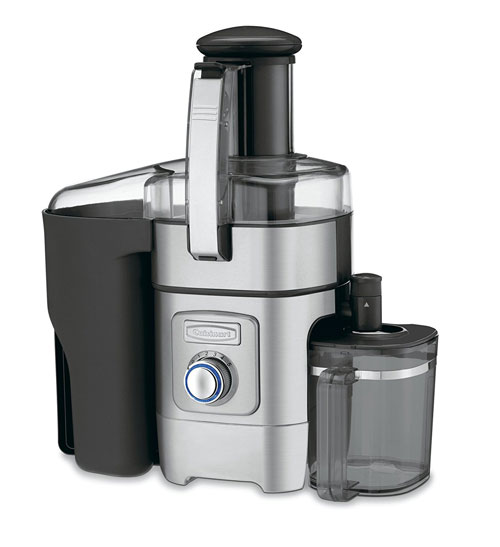 Running late? Worry no more as this juice extractor has a mighty 1000-watt motor that effortlessly extracts juice from even the toughest fruit or vegetable.
Insert a whole piece of apple and orange directly into the 3-inch feeder chute, and you're good to enjoy the freshest juice in seconds.
The juicer features five-speed settings that let you control the speed of juice extraction.
This product has an easy lock system and a filter basket to reduce foam formation, plus a top-notch design that runs quietly, so it's perfect for your morning routine.
It also includes a 2-liter pulp container and a 1-quart pitcher to capture the juice.
The parts are dishwasher safe and come with a cleaning brush.
Product details:
Weight: 14 pounds
Material: Diecast and stainless steel
Price: From $142.29
=> Click to view the Cuisinart
CITRUS JUICERS
15. Black & Decker 32oz Citrus Juicer (CJ650W)
The Black+Decker CJ650W presents a citrus juicer that can extract juice from fruits in just a few spins.
Featuring a dual purpose, self-reversing cone, this juicer takes in small and large fruits alike and ensures that you get the most juice.
The cone is also pressure activated, which means that all you need to do to start the juicing process is press the fruit.
It has a pulp lever to let you choose the style of juice you want and a 32-oz clear-view plastic container with measurements to allow you to read marks clearly.
All parts of this juicer are dishwasher safe and easy to clean.
Product details:
Weight: 1.75 pounds
Material: Plastic
Price: From $16.00
=> Click to view the Black & Decker
16. Cuisinart Pulp Control Citrus Juicer (CCJ-500)
Size doesn't matter with this citrus juicer as it takes the smallest lime and even the largest grapefruit and turns them into fresh juice.
It features an adjustable auto-reversing reamer that lets you control the pulp settings into low, medium, or high for your preference.
It also boasts of a final-spin feature, which maximizes the amount of juice extracted from the fruit.
All parts are easy to clean and dishwasher safe. The juicer also has convenient cord storage.
Product details:
Weight: 4 pounds
Material: Metal
Price: From $25.49
=> Click to view the Cuisinart
17. Eurolux Electric Citrus Juicer (ELCJ-1700)
Featuring a 160-watt motor, the Eurolux ELCJ-1700 is a powerful citrus juicer but without the noise associated with others.
It has an anti-drip system to ensure no spilling and mess, so you can use it even on top of your breakfast table.
It also boasts of an automatic start-stop system: just press the fruit, and the machine will start and lift it up to stop the process.
The cone is the one-size-fits-all type, providing maximum juice extract. The parts are detachable to allow for convenient and easy cleaning.
Product details:
Weight: 6.6 pounds
Material: Brushed metal
Price: From $57.99
———————————
Now go on and get your juice on!
And start benefiting from all those extra nutrients swimming around your body, healing your cells and protecting you from disease.
Bought a juicer? Owned one before? Share your experiences in the comments section.