Can cats be vegan?
Well no, because cats don't have the critical thinking capacity to consider the moral implications of breeding animals to eat, or indeed the subsequent use of their skin, fur and bodily by-products to produce clothing, cosmetics and other products.
What we actually mean when we ask this question is whether or not cats can eat a plant-based diet.
I've read plenty of anecdotal stories from cat owners who say their cat is living and thriving on a vegan (plant-based diet). But I'm interested in what the science says. And in this post, that's what I'm going to explore.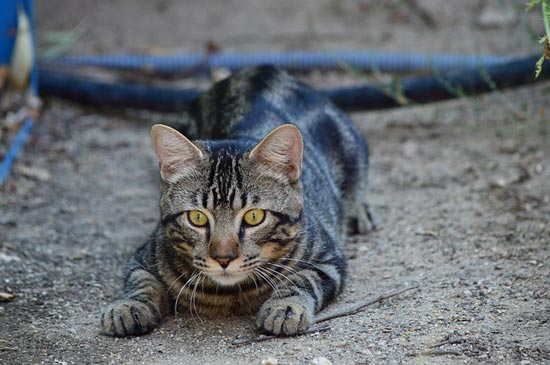 Cats Are Obligate Carnivores
Straight off the bat, the first thing to understand and acknowledge is that cats are obligate carnivores. This means that cats are meat eaters by necessity.
The necessity is so because they cannot obtain all the nutrients they need from plants and bacteria.
Specifically, cats lack the enzyme needed to split carotene – which is usually obtained from plants – into vitamin A.
Cats therefore obtain vitamin A from the liver of their prey, or meat their owners feed them.
Another problem is the inability to synthesize essential (some) very-long-chain, highly unsaturated fatty acids that other animals can make from shorter fatty acids found in plants.
Cats are hunters. Even domestic cats retain the instinct to kill and, left to their own devices, they will generally spend their time stalking prey.
Yet, rather than accepting them as obligate carnivores and instinctual hunters, many owners attempt to ween them off hunting and change these behaviours for cuter, more "pet-like" behaviours such as purring and cuddles.
Sure, kitty will purr and cuddle on the sofa, but given the choice, kitty would rather stalk and kill a mouse. This is nature.
What is the Natural Diet of a Cat?
If left to hunt for its own food, a cat will derive the protein and fats it needs from small prey such as rodents, birds, small reptiles and amphibians.
You may see a cat eating grass or plants now and again, but biologists agree that this is done to obtain roughage that acts as a digestive aid, and there is little if any nutritional value obtained.
This natural diet of a cat is pertinent to this post; because it must be acknowledged that the standard diet fed to cats by their owners is far from natural.
A large percentage of owners feed their cats kibble, which is a dry blend of animal products made mixed with vegetable-based starches. A cat doesn't have the capacity to create kibble by itself. Nature doesn't offer this option.
And then there's canned meat, which contains the body parts of animals that cats would never hunt or eat in the wild.
In fact, most vets would agree that mainstream cat food contains low-quality meat, stacked with a high volume of diseased tissue and injected with steroid growth hormones and antibiotics.
And then there's milk and cream (dairy) that should never be fed to cats.
Veterinarians at the College of Veterinary Medicine for Cornell University confirm that cats are lactose intolerant and lack the lactase enzyme, so digestion of the lactose sugar is impossible and often results in stomach upset, bloating and diarrhea.
The fact is, the type of meat cats are fed, and the dairy given as a treat, is far from an optimal diet for our feline friends, and certainly isn't a "natural diet". There's also the problem of cats being fed processed foods as "treats" – another health risk.
So actually, when putting forth the argument that a plant-based (vegan) diet for cats isn't natural, it can be somewhat retorted on the basis that neither is the current "standard diet" fed to the majority of cats by their owners.
But is this diet still preferable to a plant-based diet?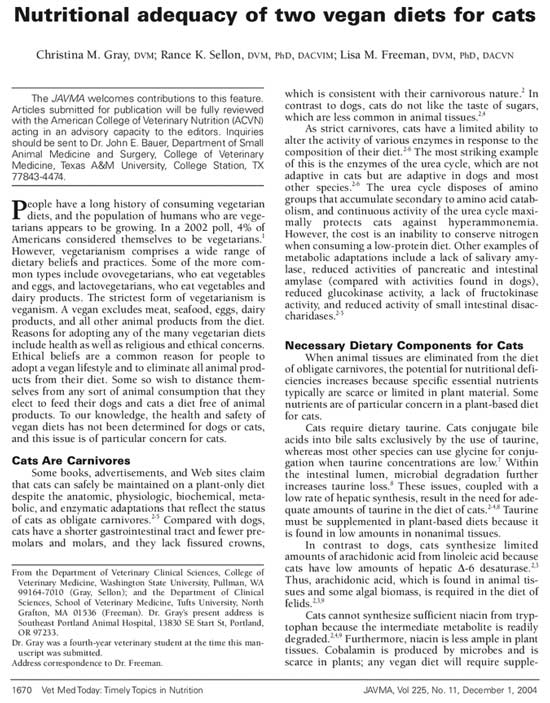 How Cats Cope with High Fat Diets
Now, as we all know, the reason humans are reverting to a plant-based diet is because we are waking up to the fact that physiologically we are not designed to eat meat in the quantities that we do, certainly not with every meal, or even daily.
Sure, we learnt to cook meat –  to be able to eat it safely and benefit from its high calorific content and fat density (great for survival during harsh winters) – but it's not optimal for health because of the cholesterol, high fat content, IGF-1, animal proteins, etc.
Modern science shows us that plant protein is preferable because it comes without the carcinogens and negative inflammatory and vascular effects.
Moreover, per calorie, plant foods are far more nutritious, and more beneficial in fighting illness and disease.
Indeed, heart disease – the number one killer in the US, and number two killer in the UK – can be prevented and reversed with a plant-based diet.
High saturated fat and cholesterol intake are risk factors for atherosclerosis, and eventually heart disease.
These plaques cause the arteries to harden and narrow, restricting the blood flow and oxygen supply to vital organs, and increasing the risk of blood clots that could potentially block the flow of blood to the heart or brain. (National Health Service).
So what does saturated fat and cholesterol have to do with cats?
Well, cats don't have this problem.
While feeding cats a high-saturated fat mash-up of cows, pigs, sheep and other animal body parts might be unnatural, they can deal with it because whether good or bad quality meat, they are obligate carnivores and have no problem consuming animal fat and dietary cholesterol.
Science has proven this.
In this study, which sought to determine the effects of increases in dietary intake of polyunsaturated and saturated fatty acids on plasma lipid and lipoprotein concentrations and activity of associated enzymes in healthy domestic cats, they found that:
Amount of fat, or ratio of polyunsaturated to saturated fatty acids had no effect on plasma concentrations of cholesterol, triglycerides, and very–low-density or high-density lipoproteins or the activity of lecithin-cholesterol acyl transferase.

Low-density lipoprotein concentrations were significantly lower in cats fed a high-fat diet containing polyunsaturated fatty acids. Lipoprotein concentration and hepatic lipase activity were significantly higher in cats fed the fat-supplemented diets, and this was unrelated to whether diets were enriched with polyunsaturated or saturated fatty acids.

Conclusion: Diets containing up to 66% of energy from fat were tolerated well by healthy cats and did not affect plasma lipid concentrations. Therefore, high-fat diets probably will not contribute to hypercholesterolemia or hypertriglyceridemia in cats.
So even though the commercial pet cat diet is hardly a natural one, it is closer to their natural diet than a plant-based (vegan) diet would be – quite simply on the basis that they are meat eaters and can cope with the saturated fat.
As for the antibiotics, growth hormones and the rest of it; well, roadkill would be a far better option.
What if a Cat's Nutritional Needs Are Met Through Plants?
Let's face it, keeping an obligate carnivore in your house and letting it go in and out through a hole in the back door, and teaching it not to kill birds and mice and bring them home is hardly natural, is it?
It's not a natural environment, or a natural existence, for a cat. It's not how the cat was designed to live.
And as we know, the large majority of cats, unlike domesticated dogs, will do just fine when left to their own devices, even after having had human contact.
Cats will go stray and survive, using their predatory instincts to catch prey and feed on scraps. Over time, having not had human contact for a prolonged period, a cat may turn feral.
When considering cat health, environment is a key factor too. Studies show that both environment and diet play a big role in the cat obesity and Diabetes epidemic.
With this in mind, it would be somewhat hypocritical for a meat-feeding cat owner to argue that a plant-based feeding cat owner was forcing the cat to do something unnatural. Indeed, both could be accused of that.
But let's disregard the debate on animal ownership for now. Let's concern ourselves with diet.
Cats get certain key nutrients and fats from meat. These include taurine, arachidonic acid, vitamin A and B12. They can't get these nutrients from plants. Though, like humans, B12 can be obtained from the environment because it is produced in nature by certain bacteria, and archaea (soil, water).
Without eating these key nutrients regularly, cats can suffer from liver and heart problems, skin irritation and hearing loss.
Cailin Heinze, VMD, a board-certified veterinary nutritionist and assistant professor of nutrition at Tufts Cummings School of Veterinary Medicine, puts his view quite bluntly:
For cats, it's really inappropriate. It goes against their physiology and isn't something I would recommend at all.
His view on dogs is different:
For dogs, certainly vegetarian and vegan diets can be done, but they need to be done very, very carefully.
Unlike humans, dogs are truly omnivorous.
Some dogs do very well on a plant-based diet, if fed a high protein, nutrient dense kibble. I'll cover dogs in another post – because that's quite complex and is in many ways breed dependent.
The comparison does raise a key point in this debate, though: Feeding a dog (an omnivore) a plant-based (vegan) diet is not much of an experiment, and can be highly beneficial – particularly for dogs with arthritis and heart problems.
However, feeding a cat a vegan diet is experimental. It's an experiment that has the potential to go quite wrong.
Physiologically, dogs are designed to eat both plant-based foods and meat, whereas cats are pure meat eaters.
But that doesn't mean a cat can't live a healthy, long life on a plant-based diet, if it meets all the nutritional requirements.
Again, the science proves it.
A review of evidence published from four studies that have examined the nutritional adequacy of vegetarian diets for cats and dogs was studied by The Centre for Animal Welfare, University of Winchester. They reached the following conclusion:
It is entirely possible for companion animals to survive, and indeed thrive, on vegetarian diets. However, these must be nutritionally complete and reasonably balanced, and owners should regularly monitor urinary acidity and should correct for urinary alkalinisation through appropriate dietary additives, if it occurs.

Those interested in vegetarian companion animal diets should be aware of concerns about the nutritional adequacy of some such diets demonstrated by a number of studies over a significant number of years. However, to ensure a balanced view, they should also be aware that similar concerns exist about commercial meat-based diets.

They should also be aware that, although rarely conducted in accordance with the highest standards of evidence-based medicine, a significant and growing body of population studies and cases have indicated that cats and dogs maintained on vegetarian diets may be healthy—including those exercising at the highest levels—and indeed may experience a range of health benefits.

Vegetarian animals also experience a range of health problems, but these problems are also prevalent in companion animals maintained on meat-based diets. Finally, pet owners should be aware that a significant body of additional studies have demonstrated health problems in domesticated animals maintained on various meat-based diets.

Regardless of dietary choice, consumers should be encouraged to check labelling claims of nutritional adequacy, and to ask manufacturers what steps they take, and what evidence they can provide, to ensure nutritional soundness and consistency of their diets.

And as with all companion animals, owners should monitor the health of their animals on a regular basis, including through regular checks of bodyweight, activity level and demeanour.

Any significant, ongoing problems should trigger a veterinary examination, which should, in any event, occur at least annually, and biannually after approximately seven years of age. Biannual examinations are also advisable during the first year on a new, vegetarian diet. Owners should consider screening blood and urine tests during such wellness checks, and in the case of illness.

As interest in vegetarian companion animal diets continues to grow, it is anticipated that further relevant studies will shed additional light on the nutritional adequacy of these diets, and on the health of companion animals maintained on them. (Source: Mdpi)
This review of the literature shows that with careful management it is possible to have a healthy cat on a plant-based diet.
However, there still is a chance that your cat won't do well on a plant-based diet. The main concern is urinary alkalinisation.
Vetinarian, Dr Armaiti May, D.V.M, C.V.A, summarises the risks as follows:
Cats on a vegan diet can develop abnormally alkaline (high pH) urine due to the more alkaline pH of plant based proteins in comparison to the acidic pH of meat-based foods which cats have evolved to eat.

When the urine pH becomes too alkaline, there is an increased risk of formation of struvite (also known as magnesium ammonium phosphate) bladder crystals and/or stones.

Calcium oxalate stones can also occur, but these do not occur if the urine is too alkaline, but rather if it is too acidic. Such stones can create irritation and infection of the urinary tract and require veterinary treatment.

In male cats who form such crystals or stones, they can suffer more severe consequences than simply irritation or infection of the urinary tract because the stones can actually cause an obstruction of the urethra so the cat cannot urinate. This is a life-threatening emergency requiring immediate veterinary care.
Vegan/vegetarian cat food has come a long way though, and there seems to be an awful lot of cats thriving on veggie diets, albeit this should be considered anecdotal evidence.
Regardless, there is no country-wide epidemic of vegan cats being rushed into vets with nutritional deficiencies.
Take Evolution foods, for example: They have been selling vegan cat food for 28 years and haven't had one recall. And judging by their reviews, there's a ton of cats doing very well on their food.
However, one study does not support this view.
This study published in the Journal of American Veterinary Medical Association showed two commercially available vegetarian cat foods (Vegecat KibbleMix and Evolution canned diet for adult cats) to be deficient in several key nutrients.
The two vegan diets were subjected to nutritional analysis and compared to Association of American Feed Control Officials (AAFCO) nutrient profiles for the maintenance of adult cats. The Evolution food was determined to be deficient in protein, methionine, taurine, arachidonic acid, vitamin A, pyroxidine, and niacin. Vegecat KibbleMix was found to be deficient in methionine, taurine, arachidonic acid, and pyroxidine.
On the face of it, this is alarming. But as with all scientific studies we should consider the reliability of the study and any limitations.
Indeed, Andrew Knight BSc, BVMS, President of Animal Consultants international, responded to the findings as follows: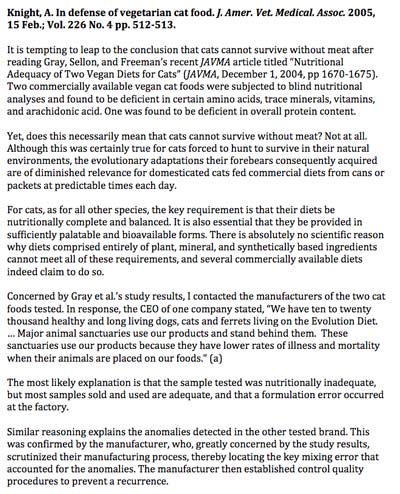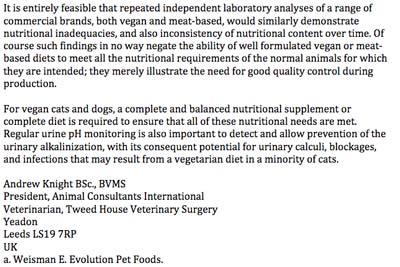 The authors of the study responded to his letter, admitting the limitation of the study:
The full exchange can be read here. 
What's clear is that research in this area is limited. Due to commercial interest, funding for research on vegetarian diets for cats is of course massively outweighed by research for meat-based diets. We don't have a reliable pool of research from which to conduct a meta analysis and draw statistically significant conclusions.
The limited research there has been, though, has NOT concluded that vegan/vegetarian cat diets are inherently dangerous, and the aforementioned study is limited to two samples from two sources.
For example, take the following cross-sectional study on 34 cats that were exclusively fed a commercial or homemade vegetarian diet, and 52 cats that had been fed a conventional diet for more than 1 year.
The study sought to determine the motivation and feeding practices of people who feed their cats vegetarian diets as well as the taurine and cobalamin status of cats consuming vegetarian diets.
All cats evaluated had serum cobalamin (B12) concentrations within reference range, and 14 of 17 had blood taurine concentrations within reference range.
In short, the vegetarian cats in this study were not deficient in B12 and taurine.
In Conclusion
By design, a plant-based diet is not what nature intended for cats.
But as discussed, the same argument can be put forth for the standard meat-based cat diet, albeit one could effectively argue it is easier to meet the nutritional requirements of a cat using the latter.
What's clear is that a cat's nutritional needs can be met through plant-based, mineral and synthetic-based ingredients, but close attention should be paid to the nutritional adequacy of the food source, and owners should adhere to regular vet checkups – as advised for all pets – to ensure optimal health.
As a human (unspecified frugivore by design) who eats a plant-based diet, I have to say I'm not comfortable with going against the biology of an animal and feeding it what is essentially an unnatural diet, even if it's possible to maintain good health.
But in conducting research for this article it quickly became obvious that this is not a one-dimensional debate. There are many factors to consider.
Simply put: "cat ownership" can be detrimental to a cat's health.
The quality and type of meat, the dairy and processed snacks, the living environment, the level of exercise: all these things have the potential to be harmful to a cat's health.
To single out owners who put cats on a plant-based diet as cruel people is the pot calling the kettle black.
Millions of owners harm their cats on a daily basis by unknowingly feeding them low-quality meat, and in some cases by knowingly feeding cats dairy products and snacks high in processed carbohydrates.
The meat we feed our cats also contains synthetic substances such as growth hormones and antibiotics.
Moreover, many cat owners restrict exercise by keeping cats in doors so they can enjoy companionship, and attempt to reverse natural hunting instincts such as killing birds and rodents.
The reality is: a nutritionally balanced plant-based diet, along with the necessary access to exercise and territory to roam is likely to be healthier than a low-quality canned-meat and milk diet coupled with a sedentary lifestyle.
That said, part of me is still uncomfortable with the idea of vegan-plant-based cats; because we are essentially experimenting on an obligate carnivore until we find a version of a vegan diet that is able to keep it healthy and alive for as long as possible.
And for what? To ease our conscience? To prove a point that a cat can be vegan? To make it accessible to own an animal in a more ethical way?
Would it not be more ethical to better enable cats to hunt their own food, as they were designed to do?
Plant-based food enables vegan cat owners to avoid the moral dilemma of feeding meat to their cats, but at the same time begs the question: are we really doing this for the animals or ourselves?
But then I ask myself, could this same theory of "experimentation" not be applied to all pet ownership in one way or another?
Is it possible to make a food out of plants and bacteria that will keep a cat alive and healthy for as long as a meat-eating cat? Yes. Research has proven that.
But there really isn't enough science to tell us whether this could be applicable to all cat breeds, and no long-term, controlled, large cohort studies  to identify specific problems, if any.
Extra monitoring may be required, particularly in terms of  urinary alkalinisation and checking for absorption issues, particularly in those cats with pre-existing health conditions due to bad breeding and lack of proper care.
So the answer to the question "Can cats be vegan?" is… it's possible, yes.
As long as the diet meets all of the nutritional requirements specific to cats and their overall health is adequately monitored, with particular attention to urinary tract health.

Cats require the same nine essential amino acids that are needed in the diet of all mammals.

However, in addition, cats also require arginine and taurine. Taurine is found naturally in meat but can be supplied in synthetic form. Without adequate taurine, cats may go blind and may develop dilated cardiomyopathy (a type of heart disease). (Source: Veganhealth)
But if you're desperate for a pet, dogs are far better suited to a plant-based diet than cats.
Diet aside, I'd like to add that a debate should be had on whether it is ethical to keep a solitary, obligate, carnivorous hunter in a domestic environment that seeks to disrupt and curtail its natural predatory instincts.
Of course, it would be even worse to do so if you had other animals killed to facilitate the diet of that animal, wouldn't it? In this regard, both vegan and non-vegan cat owners meet on a level-playing field when it comes to defending themselves against criticism.