To kick off our inspirational vegan series, we're pleased to welcome competitive powerlifter and nutritional knowledge buff Anastasia Zinchenko to VM.com.
Originally from Ukraine, 29-year-old Anastasia grew up in Slovakia and then Germany. She now resides in the UK, where she is studying a PhD in Biochemistry and competing as a powerlifter. Anastasia splits her free time between a heavy training schedule and using science-based nutritional information to help others better their diet and overall wellbeing.
If you've been looking for evidence that vegans can be as strong, if not stronger than meat-eaters, and some motivation to get you training harder, I suggest you read on…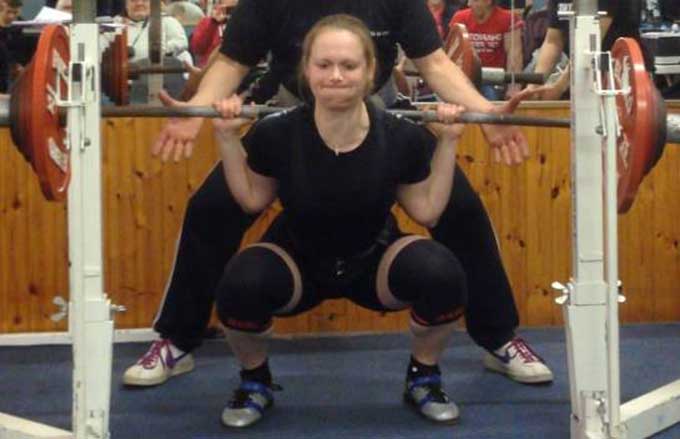 1) When did you decide to go vegan, and what did your family and friends make of your decision?
I became pescetarian at an age of 15. Twelve years later, my best friend inspired me to go vegan. I am very happy that my family and friends support my decision. When I go back home for holidays, there are always vegan food options for me. My mom has started reducing her animal product consumption and eating more plant-based food too.
2) For some, health and diet is the most important aspect of choosing a vegan lifestyle, but for others motivation is firmly rooted in compassion for animals. What are your motivating factors?
Initially, my decision to become vegan was based on the health aspect. However, the more information I gained about the negative consequences of factory farming, the more my decision of living a vegan lifestyle became motivated by morality. I don't want to support and contribute to something I consider as being wrong and unnecessary. For me, veganism is about doing the least harm possible, to respect all living beings, the environment and ourselves.
3) What made you decide to get into powerlifting and how has it changed your life?
I first joined a gym two and a half years ago. I started with mostly cardio and bodybuilding type of workouts. It didn't take long until I realised how much I like compound movements, such as squat, bench press and deadlift. I changed from the regular gym to the free weight room and started lifting really heavy weights. I felt in love with powerlifting and it changed my life a lot.
In the past, I was mainly focused on aesthetic appearance and did sports because I wanted to look good. Now my focus is the performance and strength aspect. I started focusing on positive numbers – the weight I have on the bar, the weight I can lift – instead of the negative number on the scale, which made me weak for years (in my trials to lose weight). Now, improved aesthetic appearance and muscle definition is a 'side effect' of performance I really appreciate.
4) You recently won first place at the Anglian Open Powerlifting Championship (congrats!) But what people don't realise is that you went from beginner to champion in just over a year! That's nothing short of amazing. How much of this achievement to you contribute to your vegan diet?
Thank you so much! Well, I started powerlifting 1.5 years ago and my first competition was exactly one year ago. Diet is an individual thing and everyone has to find what works for him/her. It is very difficult for me to tell how much of my performance is to contribute to my vegan diet, as I don't have a negative control (being a scientist I know the great importance of negative controls).
This means I have no idea how my performance would be if I had followed "just a healthy diet", that is not necessarily vegan. However, something I am really convinced of is that eating a balanced, well-planned vegan diet does not result in a lower performance that eating an omnivorous diet. The ethical aspect of a vegan diet may even be an additional, psychological driving force to perform knowing that one tries to reduce the harm in the world we live in (at least that applies to me anyway).
5) For vegan athletes and those who work out regularly, a common question from meat-eaters is "where do you get your protein"? Can you tell us how much protein you eat each day and what sources you consume?
In general, I feel well on a higher protein diet. Usually, I get around 2g protein per kg of bodyweight (or ~ 1g/lbs bodyweight). My favourite protein sources are legumes (including chickpea flour for baking), soy products (especially tofu), vital wheat gluten for protein pancakes, rice and pea protein powder for delicious post-workout desserts, green veggies, nut butters and fat reduced nut flours.
6) To lift the weight that you do you obviously need to be very strong. Can you give us an insight into the meals you eat and your training routine for an average day?
My daily meal plan is based on three simple, science-based guidelines:
1. I try to consume 30-50g protein every 4-6 hours to maximize muscle protein synthesis.
2. If my training sessions are less than 6-8 hours apart (e.g. when I lift twice a day) I eat fast digestible/high GI carbs post workout.
3. I eat complex carbs and protein before workouts.
Breakfast: Protein pancakes or sweet tofu scramble or oatmeal + protein powder, usually with some berries and nut butter as topping
Snack: Fruits or soy yogurt with cacao powder and stevia. If I train twice a day, then rice cakes, ripe banana or white bread to refill glycogen stores after morning training session.
Lunch: Tofu or legumes based dish (e.g. lentil loaf, curry, chilli, etc) with some raw and cooked veggies
Snack: Protein bar and/or fruits
Dinner (pre-workout): small portion of beans and leafy greens
Post-workout: Protein-dessert (40-50g rice and/or pea protein with a small amount of almond milk, cacao powder, stevia and berries). If I have a training session the next morning, I add an additional carb source (e.g. banana, cereals or bread).
My training is very goal dependent and changes all the time to prevent plateaus, and because I get bored very quickly
I usually train 6 days a week. At the moment, I try to train twice a day whenever possible, doing short strength sessions in the morning (30 min, 3-6 rep range, mostly compound movements) and short, intense hypertrophy training sessions including supersets in the evenings (30-40min, 8-12 rep range, compound and isolation exercises). I squat 2-3 times a week, bench press 2-3 times a week and deadlift 2 times a week.
7) What advice would you give to other up and coming vegan powerlifters, and to those women considering giving it a try but who feel a little apprehensive about entering a largely male dominated sport?
Try to get as much information as possible. Read books and articles about training and sports nutrition, listen to podcasts, and watch YouTube videos of good powerlifters and trainers. Be open to new things and sceptical at the same time. Don't be afraid to experiment, to try new things and to fail. That's how you find what works for you.
For women: Just do it!!! Lifting weights is great! Men in the gym will start to respect you after a short time of hard training. Don't forget, we (women) have more endurance than men, we can train harder. That is impressive!
8) You were recently a representative at the vegan bodybuilding stand at Vegfest in Brighton, UK, and you're also a very active member of the Vegan Bodybuilding & Nutrition Facebook page. How do you find the time to study, train and share your knowledge with other vegans too?
Sharing my knowledge is my passion, and I'm used to it because I have taught a lot in the past. Sometimes I try to squeeze things in between experiments. For example, when I do long measurements and have 1-2 minutes waiting time between 'active work', in these short breaks I read articles, comment on posts or make plans for future blog posts. Of course, you can't do everything though, which is why I often choose to train or spend time in Facebook communities while other people are going out partying. However, this is the lifestyle I have chosen and I enjoy it.
9) What has been the most challenging aspect of your vegan lifestyle to date?
To he honest, I can't think of anything about vegan lifestyle that was particularly challenging for me.
10) What are your three favourite vegan foods?
Nut butters, chickpeas, leafy greens.
11) Can you share some tips with those who are about to make the switch to a plant-based diet?
Take your time. Don't stress yourself out. Learn and do things one step at a time. It is not about being perfect, but rather reducing harm. Everything good we do counts :).
12) What's next for Anastasia? More powerlifting competitions? More YouTube videos? Any new vegan ventures?
Yes, more of everything. Of course, more videos, blog posts, daily posts about training, science and yummy vegan food on my Facebook page and Instagram. At the moment I am preparing for the British Powerlifting Championship in September. I am also working on a science-based book/ebook about the vegan diet, training and how to achieve individual goals.
Thank you Anastasia for sharing your vegan lifestyle with us. We wish you lots of success in theBritish Powerlifting Championship.  If you want to hear more from Anastasia, you can connect with her via any of the social mediums below.