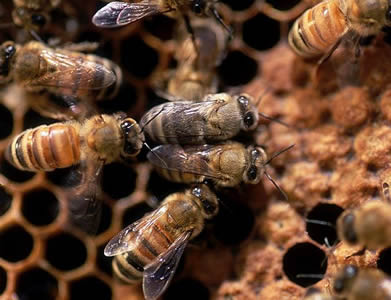 Maybe some of you reading this are already thinking, "I'm on board with not eating meat, but honey? Come on, it's a natural product, and they're just insects."
That's cool, you're not alone- at some point we all think that way.
We have this cultural impression that bees just do their thing, the beekeeper does them a favour by providing a nice beehive, and all he asks in exchange is a little honey, right?
I love bees. I think we need more of them, and I am totally on board with people having a hive- provided the bees are left the hell alone to do bee things. If you take a little left over honey for caring for bees, who am I to judge.
We all know how vital bees are for cross pollination of plant life, and as part of our ecosystem that we should protect from the savagery of human beings.
With the preservation of the ecosystem in mind, there is no difference between wild birds and wild bees. Between bees and your family dog, there is no difference. They all have a role to play. Unfortunately, this is not a consideration for industrial honey producers.
1. Bees are raped and murdered to make money, honey
The trade that we like to see in our minds of happy bees churning out honey for our table is the result of a systemic regime of torture, mutilation, theft and rape. Yeah, I said rape.
We have to understand that the selective breeding of animals, including artificial insemination, is unethical and cruel when it's done to profit humans.
I totally get that for some cases, like preserving endangered species because we've killed most of them, artificial insemination is necessary to prevent extinction.
We humans have a very specific idea about what rape is, and to my mind what we do with bees, is essentially the same. Is that devaluing humans, or valuing bees? If you're angry about that, well, that's your prerogative.
Here's how you rape a bee. Unlike rape amongst humans, both the drone and the queen get equally screwed. In a natural bee colony, the hierarchical cycle works like this:
The queen bee knows when her time is up, so prepares the next generation of queen eggs. Then the old queen is killed by the workers or is driven off when she is spent. The workers raise the new queens, who fight for dominance until there is only one- like in Highlander, but with bees. This queen will fly off to mate with drones where they congregate, mate on the wing, and return to the hive when fully mated, ready to lay eggs.
You don't need to be an expert on Darwinism to see the advantages for the bee colony in this system- the strong survive, the powerful drones mate the queen, the hive gets a broad genetic base.
In industrial honey production, we select a queen and clip her wings so she can't leave, then forcibly extract semen from drones to inseminate her with. The drones die in this process; the drones die in the wild too, but that's not the issue. The drones are born to mate and die.
The vast majority die unmated, and it is the strongest or the luckiest who impregnate the queen. It's intrinsically unnatural to interfere with the process in this way.
It would be unnatural to remove your sexual agency in selecting a partner to make babies with based on how convenient it would be for a third party, right?
The craziest part is, this isn't even for the purposes of selective breeding like with other animals- like how we have domesticated and altered dogs to suit our needs and desires. Genetic strength is not a factor when inseminating bees, only that the queen's eggs are fertilized.
In many nations, this aberration occurs annually, whereas in the wild a queen may live for five years, providing stability and security for her hive.
A farmed queen has a single year to breed before an untimely death, with only a weakened genetic line following her for all her efforts. As we see so much with animal exploitation in the modern age, it's all about the dollar figure.
Check out this charming video, all about the rape and murder of wild creatures.
>
2. Bees feel pain & stress through a well-developed nervous system
Yeah, it is just a bee. But it depends on your perspective, though. Does a bee feel to the same level of consciousness that humans do? No, they are insects.
We have a supremacy issue in human mentality. We are the apex predator, so it's easy to think that we are somehow not animals. We are technically the most intelligent creature on Earth, although that should be up for serious debate considering the destruction we visit on the only planet we have to live on.
A bee has a nervous system that is used for communication, location of food, and yes, includes the ability to feel pain. Consider then that a colony of bees numbering ten thousand, routinely feeling pain, stress from being smoked (which encourages feeding behaviour, as the bees think the hive is on fire) and wing and leg clipping.
Consider also that we humans also incinerate wild hives, for no reason other than our own convenience; even when swarms and beehives can be removed by experienced beekeepers without harming the bees. But, you know, it's just a bee.
3. Eating honey is destroying our interconnected world
A couple of years back Reuters  hosted a great investigation into the decline of the bee population, globally. An interesting and harrowing conclusion was drawn. It's common knowledge that we rely on bees for cross-pollination, but perhaps it's not so known to what extent we humans depend on these animals.
One third of the human diet comes from plants that are pollinated by bees, including much of what is fed to cattle, like alfalfa. If the bees go, humanity as a species is on the path to collapse.
Whether you are omnivore or vegan, we can kiss it all goodbye; and this is a fate we have wrought upon ourselves through the arrogant belief that somehow a young, technologically advanced species knows more about managing ecosystems than nature itself.
The hubris is staggering in both scale and impact. Like in the myths of the ancient Greeks who gave us the word, hubris will be the cause of our woe and destruction.
The collapse of global ecosystems is a sadly common story in the modern age, and again and again we see the same root cause – human exploitation for short-term benefit. We use pesticides to preserve crops of plants that are modified on a genetic level, and yet despite this abundance of food, you don't have to live in a third world country to witness starvation.
These pesticides also annihilate the very creatures we depend on to pollinate our crops; for example, in the Piedmont region of Italy in 2009, 30,000 colonies of bees were destroyed by pesticides.
Thirty thousand colonies, averaging thirty thousand bees per colony. That's nine hundred million bees gone, in just a single year.
Can we really continue with this model of agriculture? Imagine if our settlements were nerve gassed by an enemy with whom there was no negotiation, no communication, and no chance to prevail against.
First prize goes to whoever makes the connection to Godwin's Law.
4. We're poisoning honeybees and ourselves for profit
In Europe the sugar that is fed to bees to replace the honey humans steal contains Oxytetracycline or terramycin. These are antibiotics used to prevent diseases in the hive which is then passed into the honey which we consume.
The effect is to build resistance to analogous antibiotics in humans. As we discussed in our article about Meat & Antibiotics, this is nothing short of reprehensible skulduggery in the service of currency.
Coupled with the genetic modification of crops which causes alteration in the bacteria that live in the bee which also get passed on to us, and we see a chain of human meddling that is entirely to the detriment of the organisms in the food chain.
5. The evil of monoculture is a threat to the existence of honeybees
Industrial agriculture, like all plant interests, relies on bees for pollination. This has been the interconnected journey between our species since we gave up the hunter/gatherer lifestyle several millennia ago.
We humans have decided in our arrogance to ignore nature and create huge swathes of land that are devoid of the broad range of plant species that insects and mammals depend on. We strip out the biosphere in an area, and replace it with a single plant cash crop.
For example, almonds in California occupy a million acres of land. In addition to the vast quantities of water required to produce the crop, the land is more hostile to bees than a city block. Bees need a variety of plants to pollinate, so they have been driven from the wild where almonds are grown.
Imagine a million acres, and no bees. Every year millions of bees are transported in for pollination duties, causing countless deaths and massive hive stresses.
Whereas we once honoured hives and protected them, considered their honey as a literal gift from the gods, now we have enslaved them for work in conditions that are anathema to their existence.
6. But what about organic beekeeping? Could this make amends for our shameful crimes against honeybees?
Despite the above criticisms, there are organizations who say they respect bees and the role they play in our continued existence. It is claimed that with organic beekeeping there is a movement towards bee-husbandry and away from bee exploitation.
This remains to be seen. Bees belong in the wild, and from a vegan perspective we should just leave them alone.
Honey can't be produced without harming bees and their environment. The ethical consideration of keeping captive bees far outweighs any requirement we have for honey. We just don't need it.
If you want to sweeten your cereal or soothe a sore throat, use date nectar instead, or coconut nectar, which is just as awesome.
or
We are responsible for the survival of this world, and beekeeping is tampering with the environment unnecessarily. Honey is produced by tortured slaves.
So rather than simply saying, "Oh, it's only honey", we need to understand the impact that farming honey has on bees and their environment, and ask, what can I do to help the species that allows my civilization to exist? What can you do?